APPLICATIONS
> System Application Photos
> Isolation
> Follower Circuits
> Dancer Compensation
> Surface Driven Let-Offs and Take-Ups
> Free PDF Download of our Complete Application Guide
Check It Out!
View Our Complete Application Guide Online Version
**Click Here**
---
RESOURCES

> Baldor to KB Electronics Cross Reference for DC & AC Drives
> Motor Control Articles
> Distributor Tips; Sales Literature
> FREE! Sales and Technical Training at our Facility (no charge)
> Carotron Price Book
>> Download Now (Effective July, 2015)

---
> D.C. Drives & Accessories; Transformers
> System Interface Components (Tension Controls, Sensors, Interface Circuits)
> A.C. Motor Drives
> A.C. Motors
> D.C. Motors
> Eddy-Current Drives and Controllers
> Motor Starters
> HMI, Panel Meters, Temperature Controllers
> Power Converters and Disconnects
> Brakes and Brake Controllers
> Buy Surplus Products
> Generators
> Manuals, Brochures & Software for Carotron Products
---
Carotron's Elite® Pro Series of Digital DC drives now has standard off-the-shelf models available through 600 Horsepower and standard designs rated for up to 600VAC input and 4000 amperes output.
---
COMPANION PRODUCTS
Red Lion
Teco-Westinghouse
Lenze-ACTech
SMVector Drives | MC Series | MCH Series | SCM Series | SCF Series

KBDA Series | KBAC Series | KBMA Series | KBVF Series
Baldor & KB Electronics Cross Reference for Drives
---
SUPPORT
Carotron
3204 Rocky River Rd
Heath Springs, SC 29058
Phone: (888) 286-8614
(803) 286-8614
Fax: (800) 286-6063
Email: saleserv@carotron.com
Whether you need a standard motor control product (dc drives, din-rail modules, etc.), a custom proprietary product or an engineered system, Carotron's qualified engineers are always available to help you. Our entire engineering staff is readily available to discuss your application to assure that the products you purchase will meet all your requirements.
You'll enjoy the benefit of open communication with top engineers to determine your specific motor control needs. Whether you need an AC or DC motor drive, a generator for your home or business, or other products, we're here to help from start to finish. At Carotron, we are "Driven by Excellence" just like our motto states.
How can Carotron benefit you and your company?
Applications assistance from experienced engineers

Quality products to meet demanding requirements

Customer service with a smile and a thank you!

No voice mail, always a person who cares

Cost effectiveness

Quick turnaround

Extensive electrical testing to assure that your product meets product specifications with guaranteed quality performance

…and much more!
NEW! Surplus Products – Check out our new Surplus Products page with drives and other products from various manufacturers. We will be adding and updating this page regularly…so be sure to bookmark it! (click to view surplus items)
With more than 31 years experience, Carotron, Inc. strives for excellence in every product and engineered system we design and build. We remain competitive in today's motor control and motor drives marketplace so you can enjoy the very best service with high quality products built to last. We look forward to building a long-lasting partnership with you while helping you reach your goals.

Read more about Carotron, Inc., your friendly motor control center, on our Company Profile or browse the links to your right or left to view the latest products, applications and more!
Give Carotron a Call to Discuss Your Project Today….
Toll Free 1-888-286-8614
Local 1-803-286-8614
Para información adicional en Español,
favor contactar:
Esteban Poltorak
(305) 835-9802
esteban@graphoservice.com
More Videos from Carotron, Inc.
Common Applications for Carotron Products:
DC Motor Velocity Control • AC Motor Speed Control • PID Control • Web Control • Isolation • Frequency Conversion • Dancer Control • Torque Control • Signal Conversion • Extruder Control
Carotron has digitized our complete line of System Interface cards to offer a more compact solution.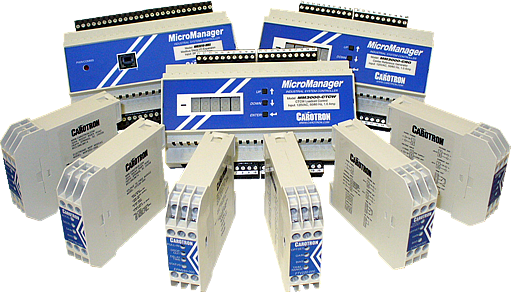 > Accel/Decel Module
> Multiplier Module
> Divider Module
> Frequency Isolation Module
> Signal Isolation Module
> Load Cell Amplifier Model
> Electronic Relay Module
> Frequency to Voltage Module
> Voltage to Frequency Module
> MOP (Motor-Operated Potentiometer)
> Proportional Integral (PI) Loop Module
The MicroManager 3000 and 3010 series is a microprocessor based system controller designed to handle a wide range of industrial applications.
The MicroManager 3010
MBS model.
The MicroManager 3000
CRG , PID, CTCW models.
---
Cortex® LT is a general-purpose micro-controller with flexibility for many different applications.
The Sonictrac® Pro
STP200-000 models.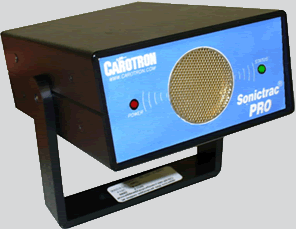 The Sonictrac® Pro Model STP200-000 is a distance measuring device that uses ultrasonic technology to detect and measure targets up to 30 feet away.