Lenze-ACTech SCM Series
AC Drives
General Description• Standard Features • Sub-micro Drives Information
---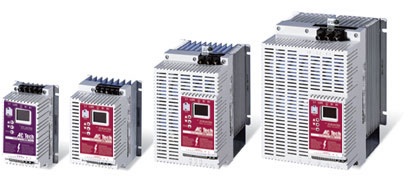 General Description
The Lenze-ACTech SCM Series features a number of Sub-micro AC drive models with compact packaging and comprehensive functionality.  These provide an ideal solution for equipment that requires variable speed, soft starting or reversing operation.
The drives are cost-effective enough to be used with motors that do not require variable speed functionality.  These virtually eliminate the need for a 2-speed motor, reversing or regular starter, and can be applied as a phase converter.
This series is designed for use with 3-phase AC induction motors rated from 1/3HP through 15HP (0.25 – 11 kw) on voltages from 120V single-phase to 480V three-phase.
The SCM Series drives are configured so that they are ready to use right out of the box with most simple applications.  The drives can be reprogrammed to perform many application tasks including electronic braking, multiple preset speeds, motor jogging, etc.
The SCM and all sub-micro drives by AC Tech use the EPM memory technology for fast and efficient programming.  Often referred to as the "Blue Chip Investment," EPM is an acronym for "Electronic Programmable Module" and allows you to copy a program from one AC Tech sub-micro drive to another in less than two seconds.  The drive does not have to be powered to perform the operation!  Easily program sub-micro drives wherever it best fits your manufacturing process.
Lenze-ACTech SCM Series AC drives come with a number of options to fit your application needs. Carotron provides personalized service if you have a custom application or need assistance with installation. We're always just a phone call away!
ORDER INFORMATION
 Call 1-888-286-8614 to order drives by Lenze-ACTech or to discuss your application needs today.
NOTE:  If you need to replace an obsoleted  Lenze DC drive, Carotron provides DC drive replacements for a variety of applications.
Brochure and Video provided below….

View Brochure
View Additional Literature
For more information about this product,
call 1-888-286-8614 or e-mail us today!
---
General Description• Standard Features • Sub-micro Drives Information
Back to AC Drives• Back to Product Line
SCM Series AC Drives by Lenze-ACTech