MicroManager
3010 Series MBS (Modbus RTU Module)

General Description • Standard Features • Specifications • Model Ratings/Dimensions • Connections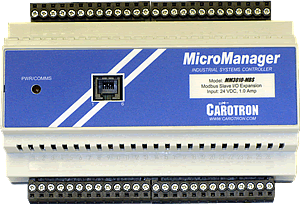 ---
General Description
Models
Modbus Slave
The MicroManager MM3010-MBS is a microprocessor based  Modbus® RTU I/O expansion module. This Modbus RTU module is designed for use in industrial SCADA (Serial Control And Data Acquisition) applications. It provides analog and digital I/O plus frequency inputs that can be accessed/controlled over an RS485 Modbus® RTU network. Combined with an appropriate HMI Touchscreen, it becomes a simple, but powerful, data acquisition & logging system.
Model MM3010-MBS provides two Modbus® RS485 slave ports.  The main port (located on the terminals) is typically used to connect to the primary Modbus®  network. Setup and configuration is accomplished by using Carotron's MicroLink software.  A serial port is required on a PC to connect to the MM3010-MBS.  If a serial port is not available, a USB to Serial Adapter can be used. The Modbus® RS485 communications port allows for all parameters to be read and for selected parameters to be changed
VIEW INSTRUCTION MANUAL
View Brochure
For more information about this product,
call 1-888-286-8614 or e-mail us today!
---
General Description • Standard Features • Specifications • Model Ratings/Dimensions • Connections
Back to System Interface Components • Back to Product Line
MicroManager
3010 Series MBS (Modbus RTU Module)