KB Drives – KBVF Series
by KB Electronics

General Description• Standard Features • Specifications
---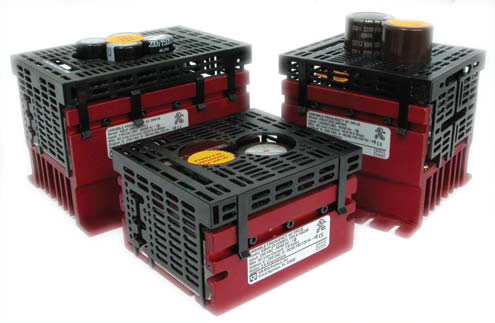 The KBVF Series of AC Drives by KB Electronics consists of 13 models of Hybrid* Adjustable Frequency Drives.  Horsepower ranges from 1/10 through 5.0 HP.  KBVF AC drives are chassis IP20 style drives and are ideal for OEM applications that do not require displays or digital programming.  These can quickly and easily be tuned for each application due to the simple trimpots and jumpers.  All KBVF drives can be customized to meet unique application needs thanks to their broad programming capabilities. They feature PLC functions and are ready to use out of the box.  All models come with external RFI/EMI Class A or B filters.
*Hybrid=Digital Drive with Analog Interface
Here are a few benefits:
>>  Great Time Saver:  No programming required or commissioning; easy installation and setup; drive is up and running in less than 10 minutes
>>  Longer Motor Life:  Uses proprietary  CL software; overload protection, motor burnout prevention; eliminates nuisance tripping; UL approved as electronic overload protector for motors
>>  Energy Saver:  Eliminates energy waste by using only required amount o fpower; uses variable motor speed instead of constant speed motors.
>>  Economical to Use:  Combines soft start with variable speed adjustable soft start to save money
>>  GFCI software*:  Allows equipment to operate with Ground Fault Circuit Interruption circuit breakers or outlets.
*With factory programming.
*Typical Applications for KBMA Series of KB Drives:
Food processing
Fans
Air cleaners
Amusement rides
Laminating
Wave soldering
Wire feeders
Feeders
Milling
Mixers

Conveyors
Hoppers
Actuators
Pumps
Winders / Unwinders
Textile
Sewing
Paper handling
Packaging

HVAC
Drilling
Garment cutting
Printing
Film processing
Machine tools

Hoists
Elevators
Lift station pumps
VIEW INSTRUCTION MANUAL
View Data Sheet
For more information about this product,
call 1-888-286-8614 or e-mail us today!
---
General Description• Standard Features • Specifications
Back to AC Drives• Back to Product Line
KB Drives – KBVF Series