Innovative Generators available at Carotron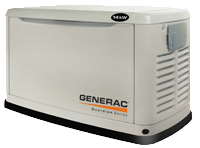 Residential, Commercial, Recreational vehicle and portable generators by Generac
*Serving these cities in South Carolina:  Lancaster,  Kershaw, Heath Springs, Rock Hill, Fort Mill, Pageland, Camden, Great Falls, Chester
Never feel powerless.
If your power goes out, your generator goes on – automatically. It's really that simple.
How It Works >>Visit the Video Library
An automatic standby generator works by monitoring utility voltage 24/7. When your electricity is interrupted, the generator detects the problem and goes to work. The automatic transfer switch safely disconnects the utility line and transfers to generator power. Power is simultaneously restored within seconds. Once the utility is restored, the generator returns to standby mode.
Generac. The generator experts.
Generac is known primarily for generators. With a sole focus on power generation for over 50 years, our reputation as the generator experts has grown to include portable, RV , residential, commercial and industrial generators. Today, customers prefer Generac seven to one over the closest competition.
• Works whether you are home or away.
• Runs on your home's existing LP or natural gas supply.
• Sits outside just like a central air conditioner.
Why choose Generac?
• Generac's OHVI® engine – the only engine designed specifically for extended generator use. Powers our most popular standby and many of our portable generators.
• Extensive dealer network specializing in generators.
• Broadest home generator product line – install the exact solution to your backup power needs.
• Easiest installation on the market with our pre-wired solutions.
• Generac's Guardian® Series residential standby generators, and all of Generac's portable generators, have earned the Seal after review by the Good Housekeeping Research Institute.
Imagine your home without power.
What would happen to your family?
While more families have chosen a Generac home standby generator more than any other brand, they didn't all do so for the same reasons. What would your family miss during a power outage?
• Refrigeration/freezer – food spoilage
• Furnace – frozen pipes, heat
• Air conditioning – mold growth, comfort
• Sump pump – flooding
• Contact with the outside world – internet, cell phone chargers, tv
• Lighting – inside and outside
• Cooking, bathing, and washing clothes
• Charging power tools for use during the emergency and post outage cleanup
• Keeping the kids occupied with tv, video games and internet
• Monetary loss from hotel costs, eating out, personal property damage, unexpected expenses
Call Carotron Today….
Phone: (888) 286-8614    -or-   (803) 286-8614
*Serving these cities in South Carolina:  Lancaster,  Kershaw, Heath Springs, Rock Hill, Fort Mill, Pageland, Camden, Great Falls, Chester