PREMIERE SOLUTIONS FOR SUPERIOR PERFORMANCE AND SERVICE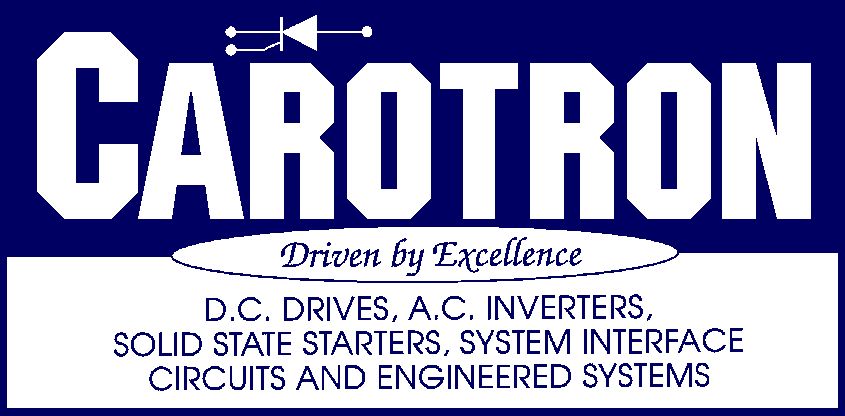 MOTOR CONTROL PRODUCTS….
ENGINEERED FOR THE BEST ACCURACY AND RELIABILITY
We firmly believe that accuracy and reliability must be designed into a motor control product. These qualities do not just happen in a good production environment. Carotron starts with quality components and adds years of experience and innovative engineering to design the best performing ac and dc drives and integrated systems available today. Communication is very important in determining your specific motor control needs. Our entire Engineering staff is readily available to discuss your application to assure that the products you purchase will meet all your requirements. Whether you need a standard product, a custom proprietary product or an engineered system, qualified Engineering support is always available to help you.
Applications assistance from experienced engineers.
Quality products to meet demanding requirements.
Customer service with a smile and a thank you!
No voice mail, always a person who cares.
Quick turnaround
…and much more!
Why we do it?
Since the beginning, Carotron has been fortunate to have people who take pride in what they build. This sense of pride promotes excellence in craftsmanship and produces a quality product for our customers. Electrical testing of all products by electronic technicians prior to shipment further assures consistency in meeting product specifications and guarantees quality performance for every installation. This team effort of manufacturing and quality control has produced over 125,000 motor control assemblies for thousands of satisfied customers.

Our Application Engineers are Here to Help
When it comes to suggesting application solutions, our Application Engineers work directly with our customers to define system specifications and offer the attention to detail and experience needed to maintain superior performance and durability. Our field tested System Interface products provide standard off the shelf building block solutions for many application requirements. Dancer Position Controls, Loadcell Tension Controls, Center Winder Controls, Master Reference Controls, Din-Rail Mountable Modules and Brake Controls are just a few of the pre-engineered solutions that we offer for OEM's and System Integrators who build their own panels.
Complete engineered systems are also available from Carotron. System Engineers provide wiring and connection diagrams in Autocad format to document the system design. When specifications require, panels can be manufactured to UL specifications in Carotron's UL Listed panel shop.Qualified Service Engineers and Technicians are available for on site assistance with any standard or custom engineered product from Carotron. While on site, service personnel can provide start-up assistance, product tuning, repair service and product training. FREE product sales and technical training is also available at Carotron's plant for distributors and end users of our products. Whether on the phone with our Engineers, through published application materials or in free seminars offered at Carotron, our goal is to educate the consumer so that he or she can make wise purchasing decisions. At Carotron we believe that a well educated consumer is a successful, long term Customer.
Carotron is a privately held South Carolina corporation. Our mission is to supply the best quality dc and ac motor control drives, integrated systems and accessories, in combination with reliable support and services to the industrial marketplace of today. Our success has come because we strive to live by our motto,
Driven by Excellence