Trooper® Series
1/8 – 3 HP
DC Motor Controls
General Description • Standard Features • Specifications • Model Ratings/Dimensions • Connections
---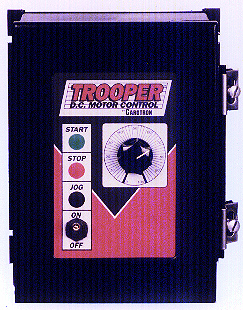 General Description

The TROOPER TDP500 Series of DC motor controls is an economical alternative for your speed or torque control applications. Though designed for economy in DC motor speed control and other applications, the TROOPER Series still provides the quality and performance many have come to know as a trademark of all CAROTRON products. Packed with features generally only available in more expensive controllers, the TROOPER¨ is a very attractive addition to the CAROTRON family.
Two basic models are offered, one in a compact chassis and one in a NEMA 4 watertight enclosure.
Sixteen models provide full range speed or torque control of shunt wound or permanent magnet type D.C. motors from 1/8 to 3 HP. Various models are offered with options that add torque/taper control, manual reversing with torque/taper or process follower isolation for both chassis and enclosed models.
60 PPR encoder or pulse tachometer feedback is another key standard feature in the TROOPER series. This feature allows frequency signals required for process monitoring to be used to improve speed regulation and simplify system requirements.
VIEW INSTRUCTION MANUAL
View Brochure
For more information about this product,
call 1-888-286-8614 or e-mail us today!
---
General Description • Standard Features • Specifications • Model Ratings/Dimensions • Connections
Back to DC Drives • Back to Product Line
Trooper® Series
1/8 – 3 HP
DC Motor Speed Control