| | |
| --- | --- |
| Control Systems Application Guide | |
---
Prev "Transients and Electrical Noise in Drive" • Back To Index • Next "Variable Speed Drive Types"
---
Isolation
One commonly used word encountered in drive applications is "ISOLATION". Simply speaking with reference to drive products, ISOLATED refers to circuitry that has no direct low impedance circuit/current path to an A.C. power source, ground or any other circuit that may have such a path.
Some low cost DC drives and AC inverter drives are not isolated. In these drives, the control circuit may be internally connected directly to the power section devices via voltage and current sensing circuits. On such drives, grounding the control circuit can create the same high fault currents that grounding the motor leads would cause except that these currents are through circuitry not designed to handle such current. The results are usually very noticeable; blown fuses and printed circuit copper foil traces, burnt components, loud noises, smoke, etc. The fault is usually caused when wiring shields or other signal level wiring for potentiometers, tachometers and encoders comes into contact with grounded metal.
Similar failures can occur when connecting an un-isolated drive to another un-isolated drive or by connecting more than one un-isolated drive to the same signal source. The failure is essentially the same as connecting one A.C. line supply to another A.C. line supply. All power and control circuitry on un-isolated type drives should be considered electrically "HOT" to ground and to other circuits.
There are several ways to eliminate the potential problems associated with lack of isolation.
One method is to use a drive which by design isolates the voltage and current sensing circuits from the control circuit. Carotron Choiceâ, Eliteâ, Eliteâ Pro, and Blazerâ Series drives and many inverter drives have isolated control circuits.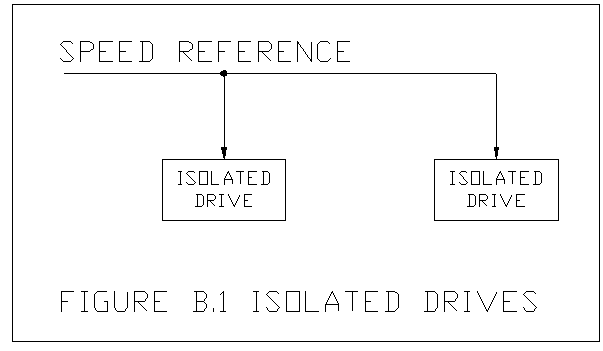 APPLICABLE PRODUCTS:
BLAZER; BLAZER IV; ELITE; ELITE PRO; CHOICE; RCP200 SERIES
A second method is to isolate each drive by means of an isolation transformer on the A.C. power input to the drive. When this method is used for motor isolation, the transformer secondary cannot be grounded.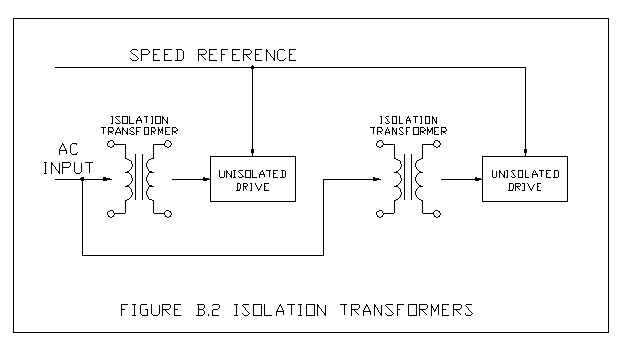 Note: Line input transformers may be used for purposes other than isolation in which grounding may be desirable such as voltage step-up or step-down transformation, fault current limitation and common mode noise and transient elimination. Refer to section on Section O for more information.
NOTE: ALWAYS ADHERE TO THE NATIONAL ELECTRICAL CODE AND ANY APPLICABLE
LOCAL ELECTRICAL CODES WHEN INSTALLING AND WIRING TRANSFORMERS.
A third method to insure isolation uses an appropriate interface isolation circuit. These products can allow the connection of many un-isolated drives, PLC's or other signal processing circuits to the same common signal source.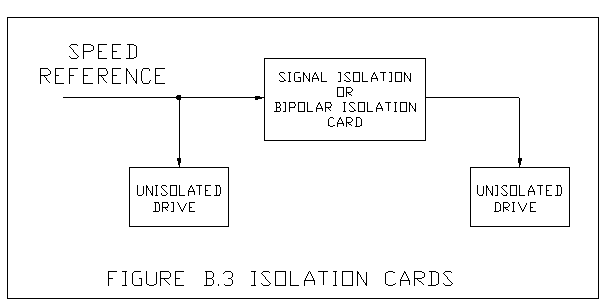 If your application calls for a signal to be tied to multiple motor drives or if a signal is sourced from unknown equipment, always exercise caution when connecting. If you do not know the source of the signal, always provide isolation. The isolation circuits can also provide additional benefits in the form of improved noise immunity and conversion from voltage to current or current to voltage.
APPLICABLE PRODUCTS:
C11451-000 Frequency to Voltage Converter,
FIM100-000 Frequency Isolation Module
SIM200-000 Signal Isolation Module
LCA210-000 Load Cell Amplifier
 FTV220-000 Frequency-to-Voltage Converter
Topics in this application guide include: motor isolation, driver isolation, motor isolators, machine isolation.   Read other useful motor control applications and tips by clicking on "Back to Index" below.
---
Prev "Transients and Electrical Noise in Drive" • Back To Index • Next "Variable Speed Drive Types"
---
Go to Product Line • Go to DC Drives and Accessories • Go to System Interface Components
Control Systems Application Guide