Yaskawa P1000 AC Drive
General Description• Standard Features • Specifications • Model Ratings/Dimensions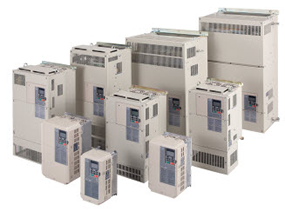 ---
General Description
The Yaskawa P1000 AC Drive is a  simplistic yet reliable drive for variable torque loads through 1000 horsepower.  If you need a cost-effective AC motor control solution, P1000 drives offer specific application features, energy savings, and network connectivity, particularly for industrial fans and pumps.
The P1000 Configured package features a P1000 AC drive in a NEMA 1 (UL Type 1) or NEMA 12 (UL Type 12) enclosure, with space for factory-mounted and wired options, such as filters, fuses, reactors, circuit breakers, network communications and I/O cards, etc.
Call Carotron at 1-888-286-8614 for Yaskawa P1000 pricing and more!
For more information about this product,
call 1-888-286-8614 or e-mail us today!
---
General Description• Standard Features • Specifications • Model Ratings/Dimensions
Back to AC Drives• Back to Product Line
Yaskawa P1000 AC Motor Drives