Lenze-ACTech MC Series
Models MC1000 and MC3000
Frequency Inverter (VFD)

General Description• Standard Features • Specifications • Model Ratings/Dimensions • Connections
---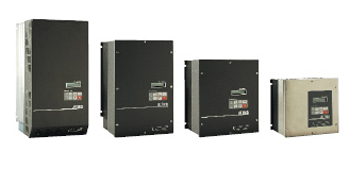 General Description
Lenze-ACTech presents the MC Series Models MC1000 and MC3000, 1/4 through 150HP (0.18 to 110kw) with input voltages from 120v single phase (with voltage doubler) to 590VAC.  These drives are built in durable enclosures made of steel that can withstand daily pressures on the factory floor.  They feature an LCD display (16 character) that's simple to read.  The display is located above the drive keypad, making it easy to set up and operate.  *Enclosure types include NEMA 1, NEMA 12, NEMA 4 and NEMA 4X (see below).
AC Tech MC Series drives have constant horsepower that can be used for simple applications that require ramped start and stop as well as speed control.  They can also be used in demanding applications that require PID set-point control as well as other complex functions.  Most applications can use the MC1000 model, which has a keypad with Start, Stop, Up, Down, Forward/Reverse, Program/Run, Auto/Manual and Enter buttons.  The MC3000 has a replacement button for the Forward/Reverse button, which is for Local/Remote, used in non-reversing applications in which the start and stop must be manually switched from local to remote, and the speed control switched from auto to manual.
NEMA 1 Enclosure:  Most common type; general purpose drive enclosure; allows for free air exchange to prevent overheating of electronics; minimum sized enclosure; must be used in a fairly clean environment.
NEMA 12 Enclosure: Gasketed to protect the electronics; may be used in environments that contain oil, dust or other airborne contaminants.  NEMA 4 enclosures are recommended for this duty in smaller power sizes.  NEMA 12 enclosures are available in higher sizes where NEMA 4 enclosures would be more costly to use.   
NEMA 4 Enclosure:  This enclosure is used for Washdown Duty and is gasketed to protect the electronics from water sprayed on or near the drive.  Keeps equipment clean; no cooling fans are needed.
NEMA 4X Enclosure:  Water-tight like the NEMA 4, but also protects from caustic agents.  Manufactured with stainless-steel and anodized heat sinks to provide a more rigid structure and superior heat transfer.
The MC Series  VFDs come with a number of options to fit your application needs.  Carotron provides personalized service if you have a custom application or need assistance with installation.  We're always just a phone call away!
ORDER INFORMATION
Call 1-888-286-8614 to order drives by Lenze-ACTech or to discuss your application needs today.
NOTE:  If you need to replace an obsoleted  Lenze DC drive, Carotron provides DC drive replacements for a variety of applications.
Brochure and Video provided below….

View Brochure
View Additional Literature
For more information about this product,
call 1-888-286-8614 or e-mail us today!
---
General Description• Standard Features • Specifications • Model Ratings/Dimensions • Connections
Back to AC Drives• Back to Product Line
MC Series Models MC1000 and MC3000
AC Drives by Lenze-ACTech