Lenze-ACTech SCF Series
Sub-micro Frequency Inverter, AC Drives
General Description• Standard Features • Sub-micro Drives Information
---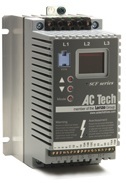 General Description
Lenze-ACTech SCF Series features multiple sub-micro AC drives in a compact size you need for panel layout.  These are Full-Featured to meet your process demands.  Drives in this series can be used with 3-phase AC induction motors, with a horsepower rating from 1/4 to 30HP (0.18 to 22KW), voltages from 120V single-phase to 590V 3-phase.
Featuring 18 isolated terminals, this drive series can be used in a wide variety of motor control applications, from very simple uses to complex applications.   Features 5 logic inputs, 2 logic outputs, 2 analog inputs, 2 analog outputs PLUS RS485 Modbus Serial Communication.
Optional models are available for the SCF Series that offer set-point (PI) control or control for high-speed motors up to 1000Hz output frequency.
The SCF Series uses EPM (electronic programmable module) memory technology, which makes it easy to copy a program from one AC Tech brand sub-micro drive to another. Quickly and easily program your drive for use with your manufacturing application…in less than 2 seconds!  Other features of EPM:  Store up to 30 programs, copy from a file to an EPM, create and edit programs, and save programs to your PC with Techlink software.
Lenze-ACTech SCF Series AC drives come with a number of options to fit your application needs. Carotron provides personalized service if you have a custom application or need assistance with installation. We're always just a phone call away!
ORDER INFORMATION
Call 1-888-286-8614 to order drives by Lenze-ACTech or to discuss your application needs today.
NOTE:  If you need to replace an obsoleted  Lenze DC drive, Carotron provides DC drive replacements for a variety of applications.
Brochure and Video provided below….

View Brochure
View Additional Literature
For more information about this product,
call 1-888-286-8614 or e-mail us today!
---
General Description• Standard Features • Sub-micro Drives Information
Back to AC Drives• Back to Product Line
Lenze-ACTech SCF Series AC Drives