AC Drives by US Drives (High Horsepower)

High Horsepower AC Drives available at Carotron

---
Carotron offers High Horsepower digital AC drives through one of our top companion companies — US Drives.  US Drives is based in Niagara Falls, NY, and provides high quality drives for tough applications in difficult conditions of operation that can cause most other AC motor drives to fail.  Are you experiencing problems with power line transients, high ambient temperatures, AC line harmonics, high AC line voltages, regenerative loads, or other application hurdles?  Carotron can provide the solution with our high horsepower AC drive selection from US Drives.
The High Horsepower models of the Phoenix DX Sensorless AC Vector Drive is just one example.  This drive was created with one goal in mind… to develop the most rugged and reliable digital AC drive in the industry!  Adjustable frequency motor control for AC motors.  May be used with synchronous AC motors, squirrel cage induction, or conventional constant speed motors.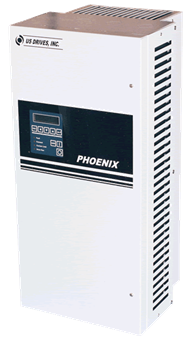 Also… US Drives offers a 3-Year Warranty!
Check out the brochure for the Phoenix DX Sensorless AC Vector Drive below…
Other Products by US Drives:

Phoenix EX Sensorless AC Vector Drive for Open or Closed Loop Vector Control:
Phoenix Regenerative AC Drive up to 1,000 Horsepower
View Phoenix Regen AC Drive Brochure
 For more information about US Drives High Horsepower AC Drives, call 1-888-286-8614 or e-mail us today!
---
Back to AC Drives • Back to Product Line
High Horsepower AC Drives by US Drives