Phoenix Series AC Drives
High Horsepower AC Drives available at Carotron
---
Carotron offers High Horsepower digital AC drives through one of our top companion companies — US Drives. US Drives is based in Niagara Falls, NY, and provides high-quality drives for tough applications in difficult conditions of operation that can cause most other AC motor drives to fail. Are you experiencing problems with power line transients, high ambient temperatures, AC line harmonics, high AC line voltages, regenerative loads, or other application hurdles? Carotron can provide the solution with our high horsepower AC drive selection from US Drives.
The High Horsepower models of the Phoenix DX Sensorless AC Vector Drive are just one example. This drive was created with one goal in mind — to develop the most rugged and reliable digital AC drive in the industry! Adjustable frequency motor control for AC motors. It may be used with synchronous AC motors, squirrel cage induction, or conventional constant-speed motors.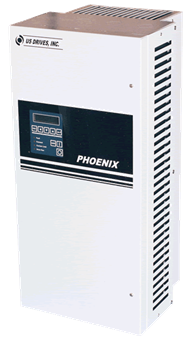 Also… US Drives offers a 3-Year Warranty!
How Does an AC Drive Work?
An AC drive is a device that controls the speed of an electric motor. The drive changes the frequency of the electrical power supply to the motor, adjusting its speed. The concept works similarly to slowing a vehicle's speed by decreasing the amount of pressure on a throttle instead of engaging the brake.
Compared to conventional mechanical controls, AC drives reduce energy usage and decrease stress on a device's motor to enhance process performance and efficiency.
High-Performance Phoenix AC Drives by US Drives
Phoenix AC drives can handle the challenging operating conditions and demanding applications that cause similar products to trip or fail. The industry recognizes Phoenix AC drive control as one of the most innovative and reliable technologies of its kind. All of the US Drives products offer a three-year warranty.
Check out the brochure for the Phoenix DX Sensorless AC Vector Drive below…
Other Products by US Drives:
Phoenix EX Sensorless AC Vector Drive for Open or Closed Loop Vector Control
The simple-to-use features of the Phoenix EX allow for easy operation while the durable build and overload protection features can stand up to the most demanding applications. This system can use either open or closed-loop vector control to achieve precise torque and motor speed. This design is available in multiple voltage and horsepower configurations and works well in various industrial applications.
Phoenix Regenerative AC Drive up to 1,000 Horsepower
The Phoenix Regenerative AC Drive is ideal for applications needing both braking and motoring torque. The design is perfect for machines with fast cycle times requiring rapid deceleration. Several specific applications include centrifuges, flywheels, saws and fans.
Phoenix DX Sensorless AC Vector Drive
The Phoenix DX takes the fixed frequency and voltage from the AC line and produces variable settings delivered to the motor to provide superior performance with high energy efficiency and low power consumption. The Phoenix DX is the perfect alternative for applications that need motor control without wired sensors or other devices.
Phoenix AC Drive With Bypass
All Phoenix AC drives are compatible with bypass packages to supply an alternate power source. Bypass capability can provide a variable frequency drive system with backup power in any application where downtime is unacceptable. These packages come pre-wired from the factory to eliminate field wiring and simplify installation.
Phoenix DX Clean Power (18 Pulse) AC Drive
The Phoenix DX Clean Power AC Drive meets IEEE 519-1992 standard for current harmonic and voltage distortion without external filters. This capability eliminates the need for a costly harmonic analysis. In addition to decreasing harmonic distortion, this drive prevents transformations from overheating and feeders and breakers from overloading.
AC Line Regenerative Model
The AC Line Regenerative Module can transform any pulse width modulated drive into a line regenerative AC drive. The system returns excess energy from the AC motor to the AC power line, eliminating the need for braking resistors. This module is user-friendly and installs quickly with just five wires.
Single Phase Phoenix AC Drive 3HP to 500HP
The Single Phase Phoenix AC Drive design helps overcome the problems with single-phase input power by reducing stress on the input rectifier and the DC bus filtering capacitors. This device also helps eliminate tripping of the AC drive due to overcurrent and under-voltage. Simple installation and operation allow for immediate efficiency and performance.
Contact Carotron to Purchase AC Drives Today
For more information about US Drives High Horsepower AC Drives, call (888) 286-8614 or e-mail us today! We also offer a full line of other motor control products to meet your specific operational requirements.
---
Back to AC Drives • Back to Product Line
High Horsepower AC Drives by US Drives