KB Drives – KBDA Series

General Description• Standard Features • Specifications
---
General Description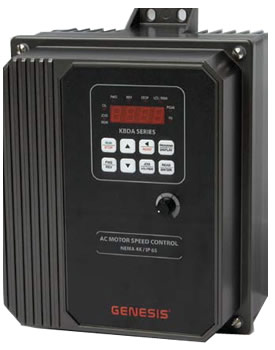 The KBDA Series by KB Electronics features 16 inverter digital AC drives with CSP™ (Common Sense Programming).  Models range from 1/8 through 5.0 horsepower and are housed in rugged enclosures, which are NEMA 4X IP65, watertight, and die-cast aluminum washdown. The enclosures feature hinged covers for indoor or outdoor use. KBDA drives are digitally programmable, with similar functions presented in common groups to make the drives easy to install and operate.  These adjustable frequency drives also have a bright, large 4-digit display with easy-to-read programming functions and operating parameters, even when reading in bright sunlight.  The KBDA Series is part of the KB drives family, with popular models such as the KBDA-24D Gray, KBDA-27D Gray, and many others.
Here are a few benefits:
>>  Time saver:  Easy installation and simple operation; commissioning not required; up and running in less than 10 minutes with CSP™.
>>  Longer life for motors:  Features proprietary CL software; overload protection; eliminates nuisance tripping; prevents burnout of the motor.  Also UL approved as an electronic overload protector for motors.
>>  Save energy:  Use only the power necessary for your application; save energy by using variable speed instead of constant speed motors.
>>  Save money:  Use indoors or outdoors; eliminates the need of a secondary enclosure; no switches to install or drilling holes; no need to derate the drive for applications with high starting torque.
>>  Soft start combination:  Soft start and variable speed adjustable soft start.
>>  GFCI software:  Operate equipment with Ground Fault Circuit Interruption circuit breakers or outlets.
*Typical Applications for KBDA Series of KB Drives:
Food processing
Actuators
Air cleaners
Amusement rides
Drilling
Wave soldering
Wire feeders
Printing
Milling
Mixers

Machine tools
Hoppers
Fans
Pumps
Winders / Unwinders
Textile
Sewing
Paper handling
Packaging

HVAC
Laminating
Garment cutting
Feeders
Film processing
Conveyors
Hoists
Elevators
Lift station pumps
VIEW INSTRUCTION MANUAL
View Data Sheet
For more information about this product,
call 1-888-286-8614 or e-mail us today!
---
General Description• Standard Features • Specifications
Back to AC Drives• Back to Product Line
KB Drives – KBDA Series