RCP200 Series
1/4 – 5 HP
Regenerative DC Motor Controls
General Description • Standard Features • Specifications • Model Ratings/Dimensions • Connections
---
General Description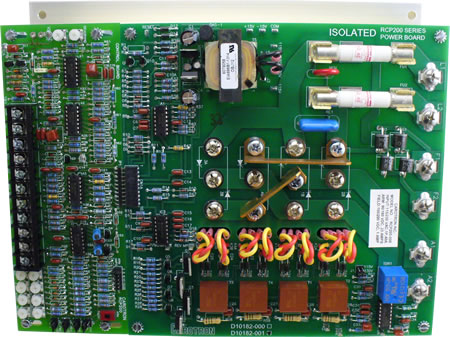 The Regenerative Control Package RCP200 Series of D.C. motor controls provides full wave four quadrant regenerative speed or torque control for 1/4 through 5 HP shunt wound and permanent magnet D.C. motors. Designed for performance and quality, but remaining versatile and functional, the RCP200 Series provides the OEM and panel builder with maximum design capability. Two units cover the full horsepower range. Also, three contactor models are available with armature contactor, dynamic braking and start/stop logic. Innovative design techniques have eliminated normal problem areas often associated with multi-bridge designs necessary for regenerative control. These design techniques combined with features such as control circuit isolation and four quadrant Acceleration/Deceleration result in a motor control possessing the highest level of flexibility, safety and performance.

VIEW INSTRUCTION MANUAL
View Brochure
For more information about this product,
call 1-888-286-8614 or e-mail us today!
---
General Description • Standard Features • Specifications • Model Ratings/Dimensions • Connections
Back to DC Drives • Back to Product Line
RCP200 Series
1/4 – 5 HP
Regenerative DC Motor Controls