ELITE® Series
5 – 300 HP DC Motor Control,
Regenerative and Non-Regenerative
General Description • Standard Features • Specifications • Model Ratings/Dimensions • Connections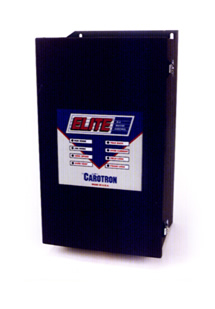 ---
General Description
The Elite Series of D.C. motor controls provides full range speed control (DC motor) and torque control of 5 – 300 HP D.C. motors rated for NEMA type C or D power supplies. The E06000 models provide six SCR non-regenerative control, while the E12000 models provide twelve SCR full four quadrant regenerative control. Ten E06000 and Ten E12000 basic models are offered in compact panel mounted assemblies to cover the 5 – 300 HP range.
Each Elite model has an electrically isolated control circuit and is easily programmed for operation on 230 VAC, 380 VAC or 460 VAC line supplies. 230 VAC input models supply variable armature voltage up to 240 VDC and a fixed field supply of 150 VDC. 380 VAC input models supply variable armature voltage up to 415 VDC and a fixed field supply of 247 VDC. 460 VAC input models supply variable armature voltage up to 500 VDC with a fixed field at 300 VDC.
All models of the Elite Series feature a field economy circuit. This circuit automatically reduces the field supply voltage by 35% when the drive is stopped for an adjustable time period of 1 minute to 3 minutes.
Semiconductor fuses are provided for protection of the three phase A.C. line input. Auxiliary three phase fuses are provided for optional equipment and for the field supply. Also provided is fuse protection for the 115 VAC control voltage input.
Standard relay logic in the Elite Series interfaces with customer supplied operators for Emergency Stop, Ramp Stop, Run, and Jog. Forward/Reverse direction control by a customer supplied selector switch is also available in the E12000 regenerative models. Logic is also supplied to interface a motor mounted thermostat and limit switches which can be used to lockout operation in either forward or reverse directions.
Available options for this speed control DC motor drive include contactor run/brake chassis models, braking resistors, disconnect switches, blower starters, and Nema 12 enclosures. Carotron also offers a hand held, plug-in drive circuit monitor, Model DCM100-000, which provides precise digital voltage readouts for 20 separate circuit signals to assist in setup and troubleshooting.
VIEW INSTRUCTION MANUAL LOW HP MODELS
VIEW INSTRUCTION MANUAL HIGH HP MODELS
SERVICE MANUAL
View Brochure
For more information about this product,
call 1-888-286-8614 or e-mail us today!
---
General Description • Standard Features • Specifications • Model Ratings/Dimensions • Connections
Back to DC Drives • Back to Product Line
ELITE® Series
5 – 300 HP DC Motor Control
Regenerative and Non-Regenerative