Frequency Isolation Module
(dual frequency isolation)
FIM100-000
General Description• Typical Applications • Specifications • Model Ratings/Dimensions • Connections
---
General Description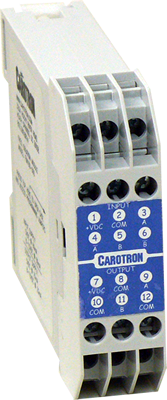 Model FIM100-000 Dual Frequency Isolation Module is designed for applications that require electrical isolation of square wave frequency signals. Designed for a wide variety of input signals, the FIM100-000 can accept either single ended or differential type inputs. Programming jumpers allow for terminating resistors to be "switched in" for differential inputs for improved noise immunity. The module provides an open collector output for each of the two inputs. Programming jumpers allow for pullup resistors to be used on the outputs if needed.
The input and output sections each require a separate power supply of 5VDC. Programming jumpers allow for higher inputs supplies of 8 to 15 VDC to be used.
Typical Applications for this Isolation Module:

Single Ended Input
Differential Input
Improved Noise Immunity
Electrical Isolation
Square Wave Frequency Signals
For more information about this product,
call 1-888-286-8614 or e-mail us today!
---
General Description• Typical Applications • Specifications • Model Ratings/Dimensions • Connections
Back to System Interface Components • Back to Product Line
Frequency Isolation Module
FIM100-000