Red Lion CUB5 Panel Meters
Panel Meter Lines: PAX; PAX Lite; PAX2; LD; CUB5
Panel Meters• Counters • Timers
---
General Description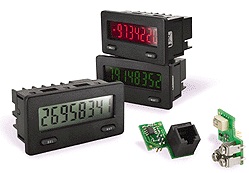 Save money and space with Red Lion's CUB5 panel meters.  These are compact – less than half the size of most standard 1/8 DIN panel meters.  They also have smaller enclosures, but are still jam-packed with many great features.  CUB5 panel meters feature a large .48″ (12 mm) display as well as optional single or dual setpoint control output modules.  They also have optional RS232 or RS485 communication modules which allow the CUB5 panel meters to handle even very demanding applications.
Popular CUB5 Products by Red Lion:

For more information about Red Lion Panel Meters
call 1-888-286-8614 or e-mail us today!
---
Panel Meters• Counters • Timers
Back to HMI, Panel Meters, Temperature Controllers • Back to Product Line
Red Lion CUB5 Panel Meters