Red Lion PAX 2 Panel Meters
Panel Meter Lines: PAX; PAX Lite; PAX2; LD; CUB5
Panel Meters• Counters • Timers
---
General Description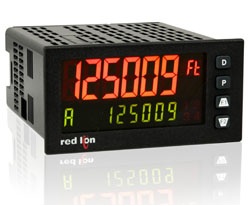 Red Lion PAX 2 Panel Meters feature a dual line display and an array of functions for universal use.  PAX 2 has a 0.7″ high, 6-digit main LCD display with three programmable, easy-to-read colors (orange, red and green).  To provide the meter's operator with a visual display of changing conditions in an application, the color changes can be tied to the setpoints.  There's also a second display line measuring 0.35″ in height with a 9-digit green LCD that can be programmed for any parameters available on that particular meter.  Red Lion PAX 2 Panel Meters provide an ideal solution for applications that require visual access to two parameters simultaneously.

Popular PAX 2 Products by Red Lion:
| | |
| --- | --- |
| PAX2A | Dual Line Display Meter |
| PAX2D | Dual Line Digital Input Panel Meter |

For more information about Red Lion Panel Meters
call 1-888-286-8614 or e-mail us today!
---
Panel Meters• Counters • Timers
Back to HMI, Panel Meters, Temperature Controllers • Back to Product Line
Red Lion PAX 2 Panel Meters