| | |
| --- | --- |
| Control Systems Application Guide | |
---
Prev Load Regulated Feeder Control • Back To Index • Next Ramp to Stop Using Zero Speed Detector
---
Proportional Edge Guiding
Most continuous web applications require some form of edge guiding.  Cost effective single-edge guiding can be achieved with the control system depicted in Figure M.1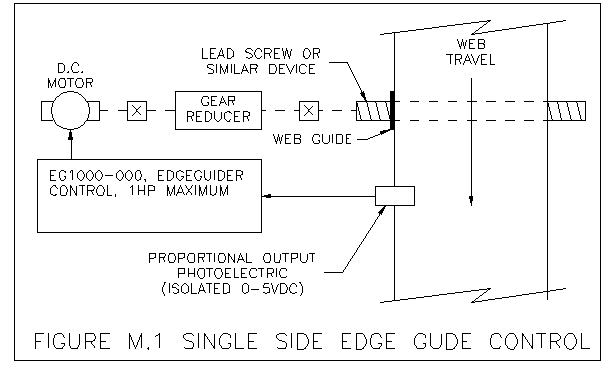 This system must be used in conjunction with a rotary input linear actuator usually driven by a fractional horsepower motor and regen drive.  A proportional output photo-electric sensor and reflector provide an isolated output from 0 to 5 VDC based on percent of reflection.  There are several manufacturers of such sensors.
The photo-electric sensor is adjusted to give 2.5 VDC output when blocked 50% by the material edge.
This signal is processed by the EG1000-000 edge guiding control to drive a motor forward or reverse (left and right actuator operation) at a speed proportional to the position error – greater error gives higher correction speed.  This proportioning feature of the correction provides a very smooth and effective guiding action when compared to other "on-off" types of guiding often used.
This low cost regenerative control method bridges the gap between the lower performance non-proportional control systems and the higher performance servo driven systems costing much more.
APPLICABLE PRODUCTS
EG1000-000 PROPORTIONAL EDGE GUIDER CONTROL
---
Prev Load Regulated Feeder Control • Back To Index • Next Ramp to Stop Using Zero Speed Detector
---
Go to Product Line • Go to DC Drives and Accessories • Go to System Interface Components
Control Systems Application Guide Index (Edge Guiding)