| | |
| --- | --- |
| Control Systems Application Guide | |
---
Prev Proportional Edge Guiding • Back To Index • Next Line Reactors and Drive Isolation Transformers
---
Ramp to Stop using Zero Speed Detector
Many applications require a drive system that has a controlled stop feature.  Controlled stopping allows multiple drives and motors in a system to decelerate in coordination so that zone tension levels are maintained.  Carotron's model C10334-000 Zero Speed Relay card provides a universal voltage sensitive relay circuit for use in "ramp to stop" logic for DC Motor Control systems.  Armature voltage ranges of 90, 180, 240 or 500 VDC may be sensed for logic control.  A voltage input of any polarity is acceptable.
When the 90/180 VDC input range is used, the zero speed relay de-energizes at approximately 5 VDC from the armature output of the system "lead" drive.  For the 240/500 VDC input range, the switching level is approximately 10 VDC.   Four form-c contacts are available for customer use.  When connected as shown in Figure N.1, pressing the STOP button will cause the lead and system drives to decelerate to zero speed at which the drives will then be stopped.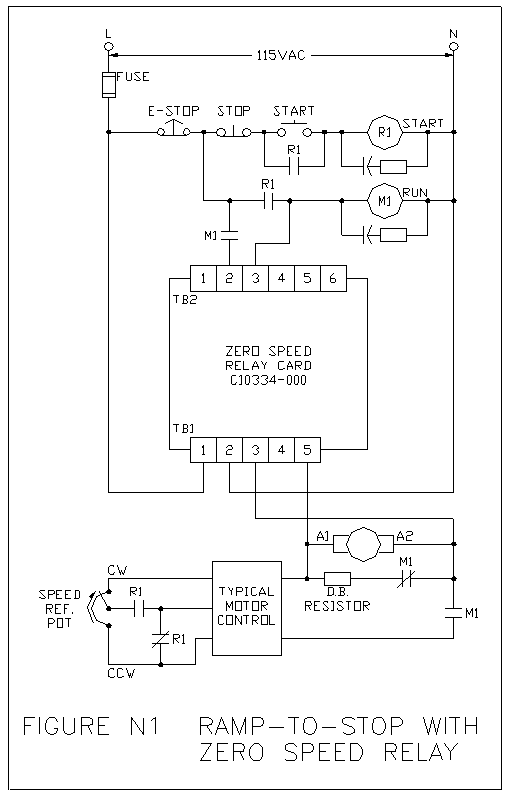 The same control scheme can be implemented using other Carotron products to process tachometer or encoder signals and with an adjustable zero speed setpoint using Carotron's Electronic Relay Card.
APPLICABLE PRODUCTS
C10334-000 ZERO SPEED RELAY CARD
C10472-000 ELECTRONIC RELAY CARD
ERM260-000 ELECTRONIC RELAY MODULE
---
Prev Proportional Edge Guiding • Back To Index • Next Line Reactors and Drive Isolation Transformers
---
Go to Product Line • Go to DC Drives and Accessories • Go to System Interface Components
Control Systems Application Guide Index