Dancer Duty Potentiometer
(Precision Potentiometer for
Harsh Industrial Applications)
Models DDP01-K0XX and DDP02-K0XX
General Description • Standard Features • Specifications • Dimensions/Connections
---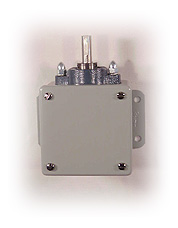 General Description
The Carotron Model DDP01 K0XX, Dancer Duty Potentiometer, a precision potentiometer without limits, and the model DDP02-K0XX, Dancer Duty Potentiometer with limits, are designed for use in harsh environments in a large variety of industrial applications. The design begins with a potentiometer rigidly mounted within a NEMA 12 enclosure. A high quality helical coupling is used to link the potentiometer to the dancer shaft, eliminating lost motion and excessive loading to the potentiometer shaft .  The dancer shaft extends through the enclosure by the use of a flange mounted bearing.  The dancer shaft is faced on one side to aid in mechanical connections. Two normally closed limit switches and two adjustable cams, to set extreme travel limits, may also be accommodated within the enclosure. Wiring connections are made easy by a prewired terminal strip within the enclosure. Quality components, precision/ and modular construction all combine to produce dependability, simplified installation and competitive pricing.  Precision potentiometers of 10K or 5K ohms are standard values offered in the DDP01-K0XX and the DDP02-K0XX.
VIEW INSTRUCTION MANUAL
View Brochure
For more information about this product,
call 1-888-286-8614 or e-mail us today!
---
General Description • Standard Features • Specifications • Dimensions/Connections
Back to System Interface Components • Back to Product Line
Dancer Duty Potentiometer
Models DDP01-K0XX and DDP02-K0XX