(NOT FOR NEW DESIGN)
CORTEX® INDUSTRIAL SYSTEMS
CONTROL UNIT
Model CORTEX-XXX
General Description•Specifications•Application Example•Models/Dimensions/Connections
---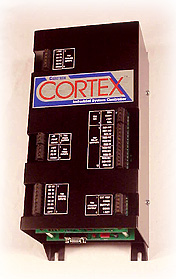 General Description
Combining years of Carotron system engineering experience with microprocessor technology, the CORTEX® provides a simple programmable solution for many drive system applications in industrial systems control.  Each model provides application specific software along with:
2 Analog inputs
2 Frequency inputs
6 Digital Logic inputs
4 Relay outputs
1 Analog output
1 Frequency output
1 IIC Expansion Bus
1 RS-232 Communications port
Applications
Constant Tension Center Winder Control
Dancer Position Control
Center Unwind Control
Loadcell Tension Control
Electronic Speed Reference Control
Custom Applications for Industrial Systems Control
*Note: Carotron has released the new CORTEX® LT, which can be used for new or existing applications.
 For more information about this product,
call 1-888-286-8614 or e-mail us today!
---
General Description•Specifications•Application Example•Models/Dimensions/Connections
Back to System Interface Components • Back to Product Line
CORTEX® INDUSTRIAL SYSTEM CONTROL UNIT
Model CORTEX-XXX