CORTEX® LT
Digital Microcontroller
General Description • Specifications • Application Examples • Dimensions/Connections
---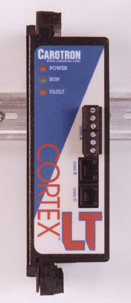 General Description
The CORTEX® LT is a general-purpose digital microcontroller with flexibility for many different applications. Driven by a powerful DSP (digital signal processor) the unit has the speed and processing capability to handle even the most difficult tasks. The internal 64K word EE Prom and 64K word RAM provide ample memory for firmware storage and data processing capacity. Each CORTEX® LT is supplied with MS-Windows (98 and higher) compatible CORTEX® LT Link Software and a serial cable for interface between the CORTEX® LT and an RS-232 port on a PC. The Link Software allows specific firmware to be selected, configured and downloaded to the CORTEX® LT hardware. The Link Software also allows for calibration, monitoring, program storage and I/0 simulation.

The "LT Builder" provides a simplified configuration guide for standard firmware selections. Through a series of application questions, the "LT Builder" pulls together the application blocks to perform the desired tasks. Advanced users can also access the system blocks directly and link functions for modifications to the standard configurations. System Blocks are displayed graphically in the Link Software to aid in understanding the functions to be performed by each block. Analog, Frequency and Digital I/0 functions are supplied for interfacing the CORTEX® LT to real world applications. The Analog and Frequency inputs are easily scaled by the CORTEX® LT Link Software to provide for offset and span control of the input signals. Analog and Frequency outputs are controlled by the CORTEX® LT firmware to provided speed, torque, tension, and many other system control functions. Digital inputs and outputs provide system logic for parameter selection or machine logic functions. Expansion communication ports allow for custom units to have expanded I/0 through Modbus communications.
Typical applications for CORTEX® LT include:
Digital Microcontroller

Extruder Controller
Loop Control
Constant Tension Center Winder
Dancer Position
PID Controller

Center Take Up
Surface Winder
Load Cell Tension
Tension Control
Diameter Calculator
Spiral Calculator
Signal Conditioning

Brake Let Off
Brake Control
Brake Unwind
I/O to Modbus
Data Acquisition
Customizable
Custom Applications
VIEW INSTRUCTION MANUAL / DOWNLOAD CORTEX® LT Link SOFTWARE / VIEW BROCHURE / INSTRUCTIONAL VIDEOS

For more information about this product,
call 1-888-286-8614 or e-mail us today!
---
General Description • Specifications • Application Examples • Dimensions/Connections
Back to System Interface Components • Back to Product Line
CORTEX® LT
Digital System Controller