DCM100
Drive Circuit Monitor
General Description • Standard Features • Model Ratings/Dimensions
---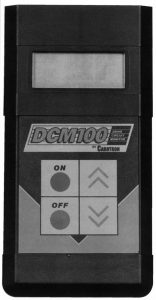 General Description
The DCM100-000 Drive Circuit Monitor provides a precision handheld, motor control troubleshooting aid for use with the Carotron CHOICE®, BLAZER®, BLAZER®IV, Elite®, & Field Regulator products.  The unit is battery operated from a single 9 VDC battery and conveniently plugs into the device to be tested via a 2 foot ribbon cable. The heart of this instrument is a precision 3-3/4 digit auto-ranging voltmeter integrated circuit.  The DCM100 contains a switching circuit to select between numerous check points on the device under test. Supplied with each instrument is a padded carrying case to protect the unit in a maintenance environment. Also supplied are detailed pocket size User Guide booklets for each series.
For more information about this product,
call 1-888-286-8614 or e-mail us today!
---
General Description • Standard Features • Model Ratings/Dimensions
Back to DC Drives • Back to Product Line
DCM100
Drive Circuit Monitor (motor control troubleshooting)