DC Rated Contactors
Models REL2023-00 – REL2023-04
---
Carotron's DC Rated Contactors are designed for use with DC motor and drive applications. They can also be used on a variety of other DC applications. The DC Rated Contactors come standard with 2 normally open (NO) power contacts and 1 normally closed (NC) power contact for dynamic braking applications. They also include 2 NO and 2 NC auxiliary contacts. All units are supplied with 120VAC, 50/60Hz rated coils.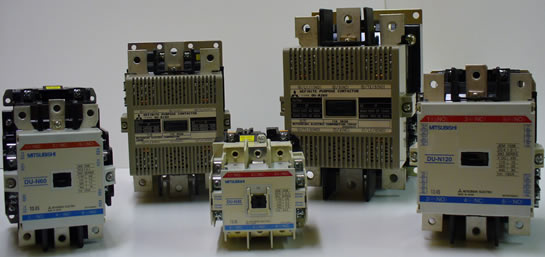 Available Models
Part Number
Rated Voltage
Rated Current
Height
Width
Depth
REL2023-00
500VDC *
50A
4.25″
3.5″
4.25″
REL2023-01
500VDC *
90A
6.0″
4.2″
5.4″
REL2023-02
500VDC *
160A
7.1″
4.8″
5.7″
REL2023-03
500VDC *
260A
8.1″
5.5″
6.9″
REL2023-04
500VDC *
360A
9.7″
6.5″
8.1″
*Rated 500VDC for SCR power source and 440V for class 2 and 4 power supplies
ELECTRICAL

Typical DC Motor and Drive Application
For more information about DC Rated Contactors call 1-888-286-8614 or e-mail us today!
---
Back to DC Drives • Back to Product Line
DC Rated Contactors by Carotron