Din-Rail Mount Controls Save Space

In the past most industrial controls required a lot of space for mounting and wiring.  The controls were not only bigger but bulky or awkward in size/shape and more complex when installing.  Nowadays, din-rail mounting combined with smaller electronics packaging has helped eliminate this problem.  Din-rail mountable controls are generally more compact and much easier to install.

The term "din-rail mountable" generally means the manufacturer has taken a step beyond just designing the control.  A din-rail mountable control features an all-in-one mounting package that includes a bracket, enclosure (NEMA or other), and other components to secure the control.  This means there are fewer nuts and bolts, fewer holes to drill, etc.  It enables the installer to attach the control to a rail instead of using up rack panel space.
Organization
The din-rail concept provides a better way to organize control setup.  Get rid of unwanted "seen" wires.  Din-rail mountable controls give you a centralized area of connection/disconnection for wiring so you can connect easily and quickly.  You can better organize the controls and use space wisely because the din-rail controls have everything contained in a smaller package.  These controls are also shaped so that they'll be an easy fit wherever there's limited space or in awkward places.   
Types of Din-rail Controls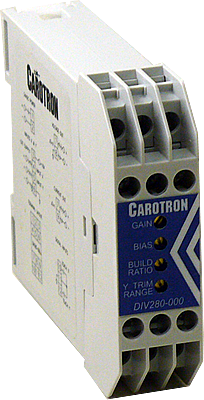 Controls that are made as "din-rail mountable" include modules for a variety of applications.  At Carotron we make the following types of controls as din-rail modules.
– Frequency isolation
– Voltage to frequency converters
– Frequency to voltage converters
– Motor operated potentiometers
– Load cell amplifiers
– Electronic relays
– Signal isolation
– Accel/decel
– PI loop
– Voltage Dividers
– Voltage Multipliers
Consider installing high quality din-rail mountable controls the next time you need to replace an older system interface component.  These provide the simplicity needed to save time, space and money!
CALL CAROTRON, We Can Help! Contact a customer representative or engineer at Carotron, Inc. at 1-888-286-8614, and let us review your application and offer the right components to do the job.
Resource/Copyright Info: This motor control article about web tension control is under © Copyright of Carotron, Inc., your source for high quality DC and AC motor drives and other industrial motion control products to keep your operation running smoothly.