KBPI Series by KB Electronics

General Description• Standard Features • Specifications
---
General Description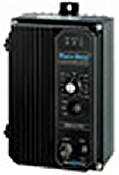 The KBPI Series by KB Electronics features two DC drive models, which offer either uni-directional or reversing operation.  These are SCR controls built for indexing and cycling applications for PM DC motors. The drives range from 1/6 thru 1 horsepower at 90 VDC or 1/3 thru 2 horsepower at 180 VDC.  Model KBPI-240D is for uni-directional operation (KB Part No. 8500).  Model KBPI-240DR is for reversing operation (KB Part No. 8501).  Both models can operate with either 115 or 230 VAC and with 90 or 180 VDC motors (proper jumper settings required).  
Isolated logic functions STOP, JOG and RUN are provided.  Other features include cycle on demand, jumper J1 for DC current selection, built-in armature fusing, LED indicator array for "power on," "stop" and "overload," and adjustable trimpots for IR compensation, current limit, and minimum and maximum speed.
KBPI drives are analog style and have a heavy duty NEMA 4X (IP-65) enclosure made of die cast aluminum.  These are washdown watertight enclosures designed for use either indoors or outdoors.
VIEW INSTRUCTION MANUAL
View Data Sheet
For more information about this product,
call 1-888-286-8614 or e-mail us today!
---
General Description• Standard Features • Specifications
Back to DC Drives• Back to Product Line
KB Drives – KBPI Series DC Drives