DC Motors and Drives vs. AC:  Checklist for Your Application
Are you a manager/owner of a facility that requires the use of heavy duty motors and drives?  Whether you need to install all new motors and drives for a brand new operation or upgrade older ones to make your facility run more efficiently, you might already realize how difficult it can be to choose between AC and DC motors and drives.  It can be tempting to just upgrade to all AC motorsbut that might not be the most economical choice in the long run.  Therefore, it's best to choose based on certain criteria. 

Here's a brief checklist to help you decide between AC and DC motors and drives:

1.  Consider Total Expense

Determine the total cost of replacing an older DC motor and/or drive versus buying a new AC motor.  Total cost for purchase, installation, future maintenance, and operation should be considered.
2.  Compare Features for Both
DC motors and drives have been around for quite a while; however, these have been upgraded with the latest features to make them more efficient in the work place.  DC drive features such as accel/decel adjustment selections, preset speeds and jog speed, speed reference, dated fault log history, multi-function outputs, electronic motor overload protection, feedback options (tachometer, armature), and more make it easy to select either an AC or DC motor and drive for a variety of applications.
3.  Dependability
Are the motors and drives easy to replace and/or repair should you need to do so in the future?  Is technical support readily available during and after installation?  If ordering out of the country, do the motors/drives meet international regulations such as EN, IEC, CSA, UL, etc.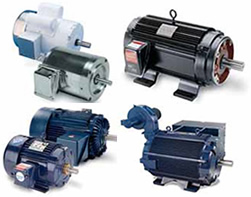 4.  Effects on the Work Environment
Also consider how the new motors and/or drives will affect the surrounding work environment.  Consider heat dissipation, space availability in comparison with the space that's going to be required for proper installation, and other factors before deciding.
Determining what your company needs in terms of motors and drives isn't difficult once you know what to look for and the amount of time and money you can invest. Give it some thought and use the above checklist to determine what's right for your application.  Carotron offers a number of AC drives and DC drives to fit your needs, and our team of engineers is readily available to discuss your application if you need assistance.
CALL CAROTRON, We Can Help! Contact a customer representative or engineer at Carotron, Inc. at 1-888-286-8614, and let us review your application and offer the right components to do the job.

Resource/Copyright Info: This article comparing DC and AC drives and motors is under © Copyright of Carotron, Inc., your source for high quality DC and AC motor drives and other industrial motion control products to keep your operation running smoothly. Read other articles here…