Washdown Duty Non-Contact Sensor
Models WDDC1-XXX; WDDC2-XXX; WDDV1-XXX; & WDDV2-XXX
General Description•Standard Features•Specifications•Models/Descriptions•Dimensions/Connections
---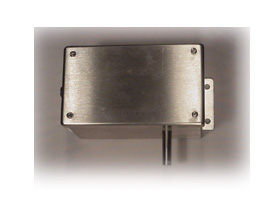 General Description
The Carotron Wash Down Duty Non-Contact Sensor Models WDDC1-XXX and WDDV1-XXX (without limit switches) and WDDC2-XXX and WDDV2-XXX (with limit switches) are designed for use in harsh environments where equipment wash down, corrosion resistance and very long equipment life are important.
Our Wash Down Duty Sensor housing is constructed form stainless steel and is rated to NEMA 4X specifications. The high quality analog proximity sensor has no moving parts, senses the position of a cam and gives an output signal proportional to the angular position of the shaft. The no-maintenance bearings are made from Freelon®, an exceptionally long life material. The stainless steel shaft is faced to aid the installation and mechanical connections. Quick release modular cabling is included with the unit and comes in five lengths ranging from 20 feet to 100 feet. This eliminates the need for connecting to terminal blocks inside the Non-Contact Sensor.
Limit switch models (WDDC2-XXX and WDDV2-XXX) contain two high quality normally closed limit switches and two adjustable cams to set extreme travel limits.  Ruggedness, superior performance, dependability, and long life characterize the Wash Down Duty Non-Contact Sensor.
Applications include:
• Dancer Position
• Rider Arm Position
• Level Sensing
• General Position Sensor
VIEW INSTRUCTION MANUAL
View Brochure
For more information about this product,
call 1-888-286-8614 or e-mail us today!
---
General Description•Standard Features•Specifications•Models/Descriptions•Dimensions/Connections
Back to System Interface Components • Back to Product Line
Washdown Duty Non-Contact Sensor
Models WDDC1-XXX; WDDC2-XXX; WDDV1-XXX; WDDV2-XXX