RS485 Biasing Card
C13487-000
General Description • Specifications • Dimensions • Connections
---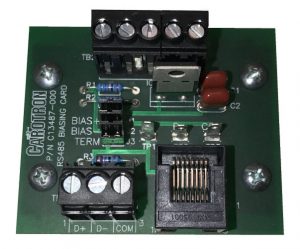 General Description
In some situations, a 2 wire RS485 bus requires failsafe biasing in order to function properly.  Carotron's RS485 Biasing board (Model C13487-000) provides an easy and efficient means to add the biasing to your network. Connections to the RS485 network are made using the large terminal blocks.  An RJ45 connector is provided to allow effortless connection to Red Lion's HMI's by simply using an Ethernet patch cable. Programming jumpers allow the biasing and terminating resistors to be switched in or out.
For more information about this product,
call 1-888-286-8614 or e-mail us today!
---
General Description • Specifications • Dimensions • Connections
Back to Systems Interface Components • Back to Product Line
RS485 Biasing Card
C13487-000