Edge Sensor (Fiber Optic)
Models EGS200-2.2V, EGS200-2.2I, EGS200-1.0V & EGS200-1.0I

General Description • Specifications • Dimensions/Connections
---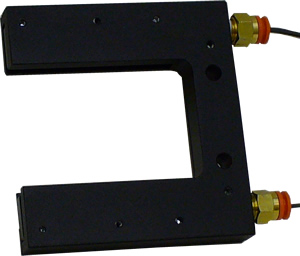 General Description
Edge Sensor (Fiber Optic)   The Carotron Model EG2000-XXX uses Fiber Optic technology to sense the edge of a web in motion.  This optical sensor has a rugged, compact build.  It is insensitive to ambient light, which makes it ideal for most web guiding applications.  This unit can be purchased with a 1″ or 2.2″ viewing window depending on the desired resolution.  Two different model amplifiers can be used to allow for 0-10VDC or 4-20mA output.  This proportional output can be used with a variety of Carotron's system controllers to form a complete Edge Guide solution.
For more information about this edge guide sensor, call 1-888-286-8614 or e-mail us today!
---
General Description • Specifications • Dimensions/Connections
Back to System Interface Components • Back to Product Line
Fiber Optic Edge Detection Sensor by Carotron, Inc.