Opal LT RVS-AX Analog Soft Starter by SAF

General Description• Model Ratings/Dimensions
---
General Description
The OPAL LT is a dependable Analog Soft Starter rated at 8-170A, 220-600V, three-phase control, complete with current limit, motor protection and built-in bypass features. The OPAL LT is an optimal solution for small to medium size motors, in demanding applications. Ease of installation and operation make it an ideal cost effective starter choice.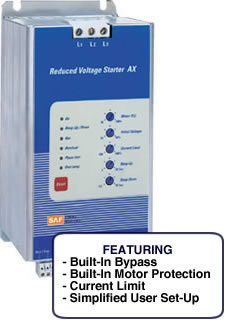 Here are a few benefits:
· Soft start & Soft stop
· Current Limit
· Built-in motor protection
· Built-in bypass (31-170A only)
· Start / Stop by voltage free contact
· Compact, small footprint
· Aluminum case
· Line or inside Delta connection
Display LEDs:
· On – Mains voltage connected
· Ramp Up/Down
· Run
· Overload
· Phase Loss
· Over Temperature
· Auxiliary Relays
· End of Acceleration Relay, one- N.O. contact
· Fault Relay, one- N.O contact
Motor Starter Protection:
· Electronic overload
· Phase loss
· Starter over-temperature
· SCR protection by Metal Oxide Varistors
Applications:
· Pumps
· Compressors
· Fans & Blowers
· Conveyors & Monorail Systems
· Starting from weak power supplies
· Diesel generators, long supply lines, etc.
For more information about this product,
call 1-888-286-8614 or e-mail us today!
---
General Description• Model Ratings/Dimensions
Back to AC Solid State Starters• Back to Product Line
Opal LT RVS-AX Series by SAF; Analog Soft Starters