DIGITAL PULSE TACHOMETER C-FACE RING KITS
Model TCF060-XXX and TCF 120-XXX
General Description • Specifications • Models/Descriptions • Dimensions/Connections
---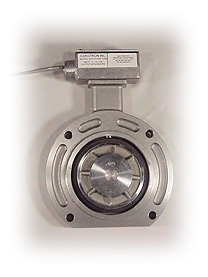 General Description

The Carotron Hall Effect Ring Kits are designed to mount on standard NEMA C-Face motors and generate a digital pulse train ,60 PPR or 120 PPR, proportional to speed down to zero speed. These digital tachometer kits can transmit signals up to 1500 feet without additional amplification, making them ideal for speed monitoring, speed feedback for motor control applications, counting, process control and ratio/draw application. The Ring Kits can be easily and quickly installed on foot-mounted motors featuring NEMA C-Face end bells or between the motor and gear box. Each kit utilizes a digital sensor and a magnet wheel with a hub bored to common motor shaft diameters. The sensor and magnet wheel are environmentally sealed and impervious to dust, oil and water.
A Hall Effect Sensor is used to produce a 60 PPR signal and a magneto-resistive sensor produces 120 PPR with the same magnet wheel. The output circuit of the TCF060-XXX sensor is an NPN open collector transistor. Each Model of the TCF SERIES consists of a sensor with 10 feet of shielded cable, a magnet wheel bored to the specified diameter, a cast aluminum mounting ring with a removable gasketed junction box, and all necessary mounting hardware. Two mounting ring sizes, two sensors and five magnetic wheel bore sizes make up the ten models of the TCF SERIES family.
For more information about this product,
call 1-888-286-8614 or e-mail us today!
---
General Description • Specifications • Models/Descriptions • Dimensions/Connections
Back to System Interface Components • Back to Product Line
DIGITAL TACHOMETER C-FACE RING KITS
Model TCF060-XXX and TCF 120-XXX