ACCEL CARD (w/ DECEL)
and POWER SUPPLY CARD
Model C11698-000
General Description • Specifications • Application Examples • Dimensions/Connections
---
General Description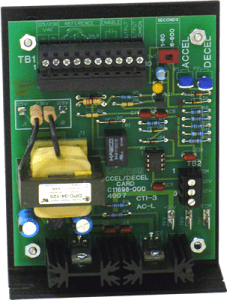 Model C11698-000 Accel Card / Decel Card is designed to handle a variety of applications where Accel/Decel functions are required without isolation. Inputs up to 10VDC maximum are acceptable sources. A +10VDC supply is available to allow the input signal to be sourced from a 1,000 to 10,000 ohm potentiometer. The input signal is routed through a linear acceleration/deceleration circuit with two selectable time ranges. The two time ranges are switch selectable for 1 – 60 seconds or 6 – 600 seconds with individual Accel and Decel potentiometers to set the time within a selected range.
A customer supplied contact closure enables the Accel/Decel circuit and allows the reference to accelerate to a level set by the input voltage or potentiometer. The decel circuit operates whenever the reference is lowered. When the enable contact opens, the reference is zeroed immediately. The unit also includes +-12VDC Power Supply outputs rated at 100 mA each for customer use.
VIEW INSTRUCTION MANUAL
View Brochure
For more information about this product,
call 1-888-286-8614 or e-mail us today!
---
General Description • Specifications • Application Examples • Dimensions/Connections
Back to System Interface Components • Back to Product Line
ACCEL/DECEL and POWER SUPPLY CARD
Model C11698-000