Red Lion Counters
Panel Meter Lines: PAX; PAX Lite; PAX2; LD; CUB5
Panel Meters• Counters • Timers
---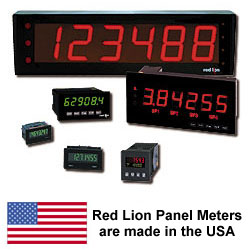 Carotron offers Red Lion Counters for a variety of uses, including preset, totalizing, batch, and counter/rate.  Red Lion offers the most comprehensive selection of counters available.   Select from a variety of counters, from simple switch contact to dual quadrature signal with communications and control.  Red Lion counters feature a wide range of models, sizes, and communication and output capabilities.
For more information about Red Lion Counters
call 1-888-286-8614 or e-mail us today!
---
Panel Meters• Counters • Timers
Back to HMI, Panel Meters, Temperature Controllers • Back to Product Line
Red Lion Counters