KBPW Series by KB Electronics

General Description• Standard Features • Specifications
---
General Description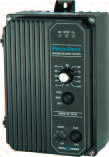 The KBPW Series or KBPW-240D consists of PWM (pulse width modulated) DC drives, with two models (with black case or white case) ranging from 1/50 through 1.5 horsepower.  These have a heavy duty NEMA 4X (IP-65) enclosure of die cast aluminum for washdown watertight applications.  These are used to control shunt wound and permanent magnet motors through 7.5 Amps DC.
The PWM waveform operates at a switching frequency greater than 16kHz and provides almost pure DC to the motor (form factor <1.05). KBPW models provide high motor efficiency with operation that's whisper quiet, and less heat in the motor.  Due to these benefits, a smaller, less costly motor can be used for most applications. The PWM also has higher output voltage to increase motor speed and an active bridge, which greatly reduces the AC line surge current during cycling of the AC line.  The active bridge makes it possible to turn the control on and off rapidly without damage to its critical components. Timed Current Limit (TCL) circuit allows for the shutting down of the control when an overload condition exists to help prevent motor burnout.
VIEW INSTRUCTION MANUAL
View Data Sheet
For more information about this product,
call 1-888-286-8614 or e-mail us today!
---
General Description• Standard Features • Specifications
Back to DC Drives• Back to Product Line
KB Drives – KBPW Series DC Drives