KBPC Series by KB Electronics

General Description• Standard Features • Specifications
---
General Description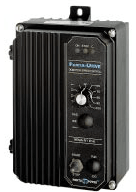 The KBPC Series SCR DC drives, manufactured by KB Electronics, have a NEMA 4X enclosure (IP-65) and provide accurate speed and torque control  for applications requiring washdown watertight integrity. KBPC Series features two analog style drive models ranging from 1/50 thru 3.0 horsepower.  These are housed in rugged die cast aluminum, which has a protective acrylic coating for ultimate resistance from corrosion.  The drive switches are sealed with rubber boots, and the main speed potentiometer contains a shaft seal.
KBPC drives feature short circuit and transient protection to enhance reliability.  These have overload protection to prevent motor burnout and demagnetization of PM motors.  Speed or torque mode can be set via jumper selection.  The current range is also jumper selectable and eliminates the need for calibration of IR compensation and current limit for most applications.  There are also jumper selections for AC line voltage (230/115), DC armature voltage (180/90) and feedback type (armature/tachometer).
Washdown and Watertight for Indoor and Outdoor Use

VIEW INSTRUCTION MANUAL
View Data Sheet
For more information about this product,
call 1-888-286-8614 or e-mail us today!
---
General Description• Standard Features • Specifications
Back to DC Drives• Back to Product Line
KB Drives – KBPC Series DC Drives