KBMM™ Series by KB Electronics

General Description• Standard Features • Specifications
---
General Description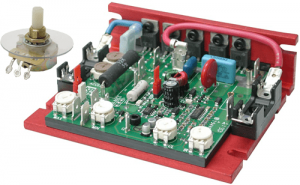 KBMM™ Series DC drives, manufactured by KB Electronics, are versatile, full-wave variable speed drives with a variety of useful features for industrial drive needs. 
KBMM™ drives have an SMT construction as well as a unique, super fast Direct-Fed™ current limit circuit, which provides protection for the SCR power bridge against direct shorts. They are further enhanced with high-surge 25A SCRs and AC line and armature fusing.  KBMM™ drives feature KB's exclusive Plug-in Horsepower Resistor®, which eliminates the need for recalibrating IR Comp and Current Limit when the control is used on various horsepower motors.  Models KBMM-225 and KBMM-225D also allow operation of 90 VDC motors when used on 230 VAC line input.
Just a few of the features are selectable tach or armature feedback, adjustment trimpots, IR comp, CL and linear Accel and Decel, Max speed, Min speed, Auto Inhibit(R), pulse transfer triggering, and many others.
The KBMM™ Series has 3 OEM and 3 Distributor models, ranging from 1/100 – 3.0 horsepower.  Introduced in 1985, these drives have been used as a standard by distributors around the world. They are now manufactured with SMT.
Typical Applications for KBMM™ Series:
• Feeders
• Packaging Machines
• Pumps
• Printing and Screening Equipment
• Exercise Equipment
• Conveyors
VIEW INSTRUCTION MANUAL
View Data Sheet
For more information about this product,
call 1-888-286-8614 or e-mail us today!
---
General Description• Standard Features • Specifications
Back to DC Drives• Back to Product Line
KB Drives – KBMM™ Series DC Drives