KBCC™ Series by KB Electronics

General Description• Standard Features • Specifications
---
General Description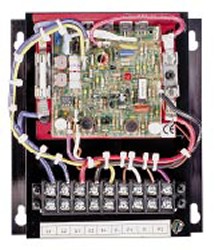 The KBCC™ Series by KB Electronics features chassis mount variable speed DC drives, which are able to control Shunt Wound and PM Motors through 3 horsepower.  The series features two models rated from 1/100 thru 3 horsepower.    These use KBMM™ modular control and are equipped with KB's exclusive Plug-in Horsepower Resistor®.  This eliminates the need for recalibration of the IR Comp and Current Limit when the the drive is being used on various horsepower motors.  KBCC™ models that have the "R" suffix feature the KB APRM®*, which provides anti-plug "instant" reverse and solid state dynamic braking.  
Also, a feature called Inhibit™ allows for electronic switching of the armature voltage.  Auto Inhibit® provides rapid safe switching of the AC line.  KBCC™ drives are designed with a rugged aluminum 7″ heatsink and contain AC line and armature fusing.  Other features include 5K ohm remote potentiometer, a barrier terminal block, adjustment trimpots (MIN, MAX, IR COMP, CL, ACCEL and DECEL), and more.
*Patented.
TYPICAL APPLICATIONS
• Transfer Pumps
• Door Openers
• Feeders
• Indexers
• Tapping Machines
• Conveyors
• Robotics
• Screen Presses
• Exercise Equipment
VIEW INSTRUCTION MANUAL
View Data Sheet
For more information about this product,
call 1-888-286-8614 or e-mail us today!
---
General Description• Standard Features • Specifications
Back to DC Drives• Back to Product Line
KB Drives – KBCC™ Series DC Drives