Electric Brake Controller
10 Amps
Model EBC1000-00 Chassis
Model EBC1000-E0 Nema 4/12 Enclosure
General Description • Standard Features • Specifications • Dimensions
---
General Description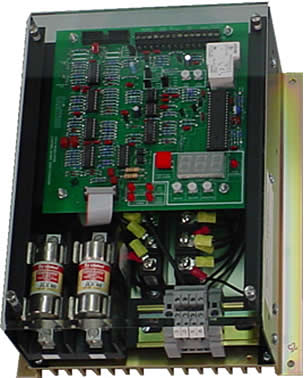 The Carotron Model EBC1000 is a precision electric brake controller which provides two preset current levels over a wide range of input voltages. When the unit is energized, the first preset value provides a high current  surge to pull in the open armature and energize the brake. After a time delay (typically 0.5 to 3 seconds), the controller automatically shifts to a lower value of hold-in current for continuous operation at greatly reduced power dissipation. Because the power supply is current-regulated, the selected level will not vary over the rated voltage range. Innovative design techniques have made the EBC1000 easily adaptable to a wide range of brake products. These rugged industrial features are combined with Carotron's traditional engineered quality, resulting  in a brake controller possessing the highest level of performance.
VIEW INSTRUCTION MANUAL
View Brochure

For more information about this product
call 1-888-286-8614 or e-mail us today!
---
General Description • Standard Features • Specifications • Dimensions
Back to Brakes and Brake Controllers • Back to Product Line
Electric Brake Controller by Carotron