PCS Softstarters by Sprecher & Schuh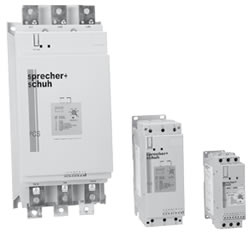 The PCS Softstarter Controller is a Sprecher and Schuh's solid state controllers with rich features at an economical price. This soft starter is specifically designed to start 3-phase motors (up to 400HP@460V / 500HP@575V), but is very compact, easy to use and DIN-rail mountable for models up to 85A. Four standard starting modes are available with the PCS Controller:
• Soft Start
• Soft Start with Selectable Kick-Start
• Current Limit Starting
• Soft Start with Soft Stop
All PCS Softstarters are designed to control either a standard 3 phase squirrel-cage induction motor or a wyedelta motor (700HP @ 460V/900HP @ 575V Y-D).  For use anywhere PCS Softstarters come in three different frame sizes. The smallest frame is from 3A…37A, the middle size is from 43A…85A and the largest frame size is 108A…480A. These units are available from 200V…600V – 50/60 Hz. This assures the devices can be used anywhere in the world.
Many convenient features
Easy Set-up – Digital rotary switches are quickly and easily set to the exact value.  LED indication of all faults is standard.
Built-in Overload Protection – PCS  Softstarters are equipped with electronic overload protection, accomplished with the use of current transformers on each of the three phases. Protection is programmable, providing total flexibility. Overload trip class selection includes OFF, 10, 15 or 20 seconds. In addition, either manual or automatic trip reset may be selected. Trip rating is 120% of dial setting.
Bypass Contactor – PCS controllers are equipped with a bypass contactor on each phase. Once the motor is up to speed, the load is removed from the SCRs, increasing their life and reducing heat.
Over Temperature Protection – The soft starter monitors SCR temperature by means of internal thermistors. When the power poles maximum rated temperature is reached, the microcomputer switches off the PCS, a TEMP fault is indicated via LED, and the 97/98 fault contact closes.
Phase Reversal Protection – When enabled via a DIP-switch, 3-phase input power will be verified before starting. If input power phasing is detected to be incorrect, the start will be aborted and a fault indicated.
Phase Loss / Open Load – The PCS will not attempt to start if there is a single phase condition on the line. This protects from motor burnout during single phase starting.
Phase Imbalance – The unit monitors for imbalance between phase currents. To prevent motor damage, the unit will trip if the difference between the minimum phase current and the maximum phase current exceeds 65% for 3 seconds, and a fault will be indicated.
Shorted SCR – Prior to every start and during starting, the unit will check all SCRs for shorts and unit load connections to the motor. If there is a shorted SCR in the PCS and/or open load, the start will be aborted and a shorted SCR or open load fault will be indicated. This prevents damage from phase imbalance.
Push to Test – The unit with control wiring can be tested for fault conditions by using the Push to Test function. Hold down the Reset button for 7 seconds to activate the fault Aux (97, 98) and shut down the PCS. To clear, either push the Reset button or cycle control power to the device.
LED Description (Number of Flashes)
1. Overload
2. Overtemperature
3. Phase Reversal
4. Phase Loss/Open Load
5. Phase Imbalance
6. Shorted SCR
7. Test
Model Number

Rated Voltage
(V AC)
230
Rated Voltage
(V AC)
380/400/415/460
Rated Voltage
(V AC)
500/575
 
Current Rating(Amps)
 kW50 Hz
Hp60 Hz
 Current Rating(Amps)
 kW50 Hz
Hp60 Hz 
 Current Rating(Amps)
 kW50 Hz
 Hp60 Hz
PCS-003-600V
1…3
0.55
0.5
1…3
1.1
0.5…1.5
1…3
1.5
0.75…2
PCS-009-600V
3…9
2.2
0.75…2
3…9
4
1.5…5
3…9
5.5
3…7.5
PCS-016-600V
5.3…16
4
1.5…5
5.3…16
7.5
5…10
5.3…16
7.5
5…10
PCS-019-600V
6.3…19
4
2…5
6.3…19
7.5
5…10
6.3…19
11
7.5…15
PCS-025-600V
9.2…25
5.5
3…7.5
9.2…25
11
7.5…15
9.2…25
15
7.5…20
PCS-030-600V
10…30
7.5
5…10
10…30
15
7.5…20
10…30
18.5
10.25
PCS-037-600V
12.3…37
7.5
5…10
12.3…37
18.5
10…25
12.3…37
22
15…30
PCS-043-600V
14.3…43
11
5…15
14.3…43
22
10…30
14.3…43
22
15…40
PCS-060-600V
20…60
15
7.5…20
20…60
30
15…40
20…60
37
20…50
PCS-085-600V
28.3…85
22
15…30
28.3…85
45
25…60
28.3…85
55
30…75
PCS-108-600V
27…108
30
20…40
27…108
55
50…75
27…108
75
60…100
PCS-135-600V
34…135
37
25…50
34…135
75
60…100
34…135
90
75…125
PCS-201-600V
67…201
55
40…75
67…201
95…110
75…150
67…201
75…132
100…200
PCS-251-600V
84…251
75
50…100
84…251
95…132
100…200
84…251
90…160
125…250
PCS-317-600V
106…317
90
60…125
106…317
95…160
125…250
106…317
100…200
200…300
PCS-361-600V
120…361
110
75…150
120…361
110…200
250…300
120…361
132…250
200…350
PCS-480-600V
160…480
132
100…200
160…480
160…250
300…400
160…480
200…315
250…500
Call Carotron today to discuss your Soft Starter Needs…
Local: 1 (803) 286-8614 or Toll-Free at 1 (888) 286-8614