SAF OP-STOP DCI
DC Injection Brakes

General Description• Standard Features • Specifications • Dimensions
---
General Description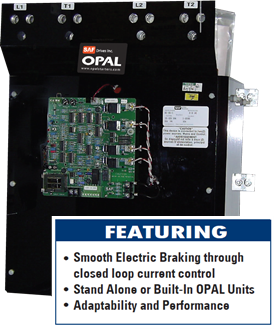 Need DC injection brakes for an industrial AC motor application?  SAF offers the OP-STOP DC Injection (DCI) brake module, a full-featured braking unit for smooth AC motor braking.  While SAF starters help to "softly" start an AC motor and gradually increase the speed to reduce wear and enhance performance, OP-STOP SAF brakes provide safe and rapid AC motor braking to enhance production results as well as safety. OP-STOP DCI brakes provide adjustable braking using closed-loop current control.  These brakes do not wear as do mechanical brakes, and high levels of braking torque can be delivered through controlled DC injection in two motor phases.
Here are a few benefits:
>>  Eliminates stand-by time; increases production output
>>  Easier installation and setup, with increased uptime
>>  Safety-focused, rapid ac motor braking
>>  No moving parts to wear; save money when choosing these over mechanical braking
>>  Need for spare parts reduced due to all OP-STOPs having a common control card — even more savings!
>>  May be ordered as a stand-alone DC injection brake unit or as an add-on with the Opal low-voltage starter
>>  Provides ac motor braking for many types of industrial applications
*Typical Applications for SAF OP-STOP DC Injection Brakes:
Rock Crushers
Planers
Centrifuges
Chippers
Wood Hogs

Conveyors
Presses
Fans
Band Saws
Rubber Mills

Circular Saws
Cut-off Saws
Shredders
Grinders
Rolling Mills
VIEW INSTRUCTION MANUAL
View Brochure
For more information about this product,
call 1-888-286-8614 or e-mail us today!
---
General Description• Standard Features • Specifications • Dimensions
Back to AC Solid State Starters• Back to Product Line
SAF OP-STOP DCI
DC Injection for AC Motor Braking