Dynapar Encoder: HS35R Series

General Description• Standard Features • Specifications
---
General Description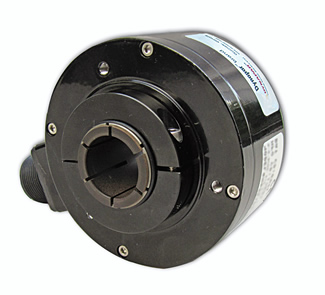 The Dynapar HS35R is a rugged hollow shaft encoder for vector motors that incorporates a number of upgrades in design to enhance reliability and maximize uptime for your facility's equipment or machinery. Some new features for the Dynapar HS35R encoder include multiple O-ring seals, larger bearings (mechanically-held), powder coating over hard anodizing, fewer PCB components, a wide gap phased array sensor module, a dual split clamp, non-glass disk, and dual V-seals.
Carotron is a Dynapar distributor, and our team of knowledgeable customer service reps can assist you in finding the right product. Dynapar brand encoders are designed to solve a number of common industry problems. For example, non-drive end stub shafts tend to have run-out or wobble.  So Dynapar invented a new encoder design that's more resistant to shaft run-out.  Another example is that encoders are sometimes too fragile for the surrounding environment where they are being used.  Dynapar's solution?  Make tougher bearings, coating and seals.  Perhaps you've noticed that in order to achieve accurate speed control for a motor drive, there must be reliable feedback.  That's why Dynapar created a wide-gap opto-ASIC that's robust in design and a simplified PCB for improved durability. 
These are just a few examples of how Dynapar HS35R encoders can be beneficial in various industrial applications and settings, such as factories, vector motors, off-road vehicles, elevators, etc.  With such a rugged design, Series HS35R meets harsh washdown duty requirements. As Dynapar distributors, Carotron can help you determine what's best for your application. So give us a call today!

VIEW INSTRUCTION MANUAL
View Data Sheet
View Brochure
For more information about this product,
call 1-888-286-8614 or e-mail us today!
---
General Description• Standard Features • Specifications
Back to System Interface Components• Back to Product Line
Dynapar Encoder: HS35R Series