CURRENT SENSING BOARD
Model C10748-XXX
General Description•Specifications•Application Example•Dimensions/Connections
---
General Description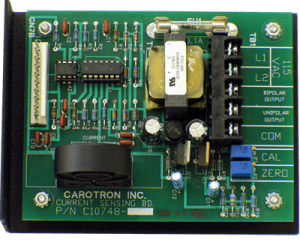 Quality Design
Model C10748-XXX Current Sensing Board is a means of sensing AC and DC Current while providing isolation. There is a minimum of 1500 Vrms isolation between the sensed conductor and the card output. This unit is intended for use in systems to measure current in DC motors and line operated AC motors. It is also able to measure motor current out of Electronic Soft Starters. In this case the current range must be considered and the start current must stay in the range of this unit. It is not intended to measure output current from AC Variable Frequency Drives.
When the unit is used to measure DC, it's output can have the same polarity as the current or it can have positive only output to indicate absolute level. The scaling is adjustable up to 10 volts full scale.
The Bipolar Output matches the waveform of an AC signal within it's risetime limitation. The Unipolar output is rectified and filtered so only a DC voltage is available indicating the level of the current. When the unit is used for single phase applications, the bipolar output is to be 4 volts or less to avoid saturation due to the form factor of the current. The current range can exceed 600 amps depending on the current waveform and can handle a maximum of less than 10 amps by using multiple turns through the sensor. Calibration of the unit is dependent on use of an accurate shunt and voltmeter or ammeter to set the scaling.
VIEW INSTRUCTION MANUAL
View Brochure
For more information about this product,
call 1-888-286-8614 or e-mail us today!
---
General Description•Specifications•Application Example•Dimensions/Connections
Back to System Interface Components • Back to Product Line
CURRENT SENSING BOARD
Model C10748-XXX