Air Prep Panel
0 – 80 PSI Output
Model APP130-XXX Chassis
General Description • Standard Features • Specifications • Typical Applications
---
General Description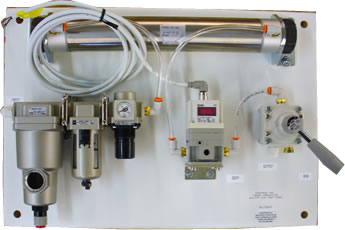 Providing clean, dry compressed air in sufficient volume to ensure fast response of a tension clutch or brake can be challenging, especially if your plant does not normally need filtered process air. Mounting location is also very important. Any proportional controller should be located as close as practical to the friction device and be fed with properly-sized tubing. The Carotron APP130-XXX Air Prep Panel is easy to install and provides all the advantages listed above.
The APP130-XXX is a precision pneumatic pressure controller which provides fully conditioned air to a friction or oil-shear brake or clutch for precision let-off or rewind tension regulation.
For more information about this product
call 1-888-286-8614 or e-mail us today!
---
General Description • Standard Features • Specifications • Typical Applications
Back to System Interface Components • Back to Product Line
Air Prep Panel Model APP130-XXX by Carotron