Trooper® IV Series
1/8 – 2 HP
Industrial Motor Control
General Description • Specifications • Model Ratings/Dimensions • Connections
---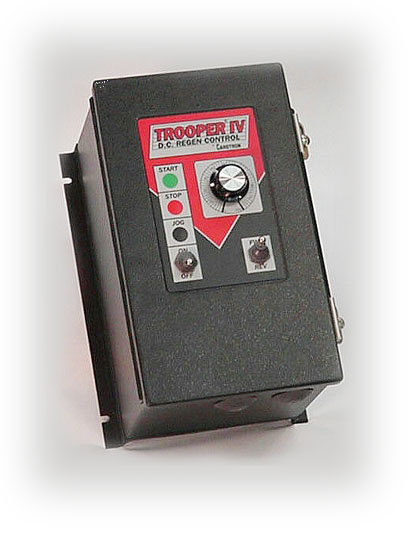 General Description

The Carotron Trooper IV Series regenerative industrial motor control provides full range – four quadrant – speed control of shunt wound or permanent magnet D.C. motors from 1/8 to 2 horsepower. Bi-directional current control operation is also possible.
Standard Features
• 115 or 230VAC input w/line fuses
• Armature or tachometer feedback
• Forward & Reverse Accel settings, two ranges: 1-4 or 4-25 Sec.
• Summing Reference Input
• Accel/Decel output
• Selectable 2 wire or 3 wire Start / Stop
• Selectable Stop method
– Coast to Stop
– Decel to Stop
– Rapid Stop (current limit Stop)
• Voltage controlled Current Limit input 5VDC = 100%
• Inner current loop for fast and stable response under varying load conditions
• IC regulated power supplies and temperature stable components
VIEW INSTRUCTION MANUAL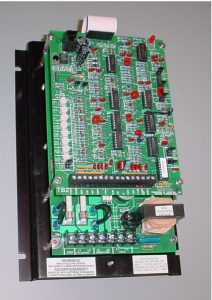 For more information about this product,call 1-888-286-8614 or e-mail us today!
---
General Description • Specifications • Model Ratings/Dimensions • Connections
Back to DC Drives • Back to Product Line
Trooper® IV Series
1/8 – 2 HP
DC Motor Controls