KBWM™ Series by KB Electronics

General Description• Standard Features • Specifications
---
General Description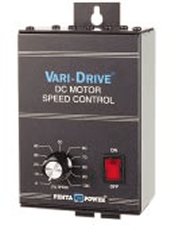 The KBWM™ Series Vari-Drive™ DC drives by KB Electronics has a NEMA-1 aluminum enclosure with two models available from 1/100 thru 3/4 horsepower.  These drives are powered using the KBMM™ SCR control.  And though the horsepower is limited by its size, these still provide all the flexibility of the KBMD Multi-Drive.
Model KBWM-120 can handle 115 VAC input and is rated 1/100 thru 1/3 horsepower at 90 VDC.  Model KBWM-240 can handle motors that are rated 1/50 thru 3/4 horsepower at 180 VDC.  KBWM™ drives feature KB's exclusive Plug-in Horsepower Resistor®)*, which automatically presets the drive's IR Comp and CL circuits for safe operation on various motors.  
The KBWM™ internal trimpots can be fine tuned for specific applications for Min, Max, IR, CL, Accel and Decel although the settings are calibrated in the factory.  The patented ultra-fast Direct-Fed™ current limit circuit eliminates motor failure that can be caused by demagnetization.  These drives also feature Auto-Inhibit®, which allows the drive to be turned on and off rapidly using the AC line without damage to the control or motor. 
VIEW INSTRUCTION MANUAL
View Data Sheet
For more information about this product,
call 1-888-286-8614 or e-mail us today!
---
General Description• Standard Features • Specifications
Back to DC Drives• Back to Product Line
KB Drives – KBWM™ Series DC Drives