KBRC Series by KB Electronics

General Description• Standard Features • Specifications
---
General Description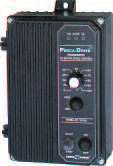 The KBRC Series includes four-quadrant regenerative DC drives, with two models that range from 1/10 through 2.0 horsepower. KBRC drives are housed in heavy duty NEMA 4X (IP-65) die cast aluminum washdown, watertight enclosures designed for indoor or outdoor use.  These are ideal for OEM applications that require repetitive reversing with regenerative braking.  
Rated for 1/10 – 1 HP (90 Volts DC) @115 Volts AC, 50/60 Hz
and 1/5 – 2 HP (180 Volts DC) @ 208/230 Volts AC, 50/60 Hz
Washdown and Watertight for Indoor and Outdoor Use
This series features two versions of the KBRC-240D, which are KB Part No. 8840 (black case) and KB Part No. 8841 (white case).  These drives can be used to operate 90 and 180V permanent magnet and shunt wound DC motors in a bidirectional mode.  With four-quadrant operation, forward and reverse torque can be achieved in both directions.  And with a user-friendly design, the KBRC-240D can easily be installed and operated with no adjustments.  These can, however, be tailored for specific application needs using selectable jumpers and trimpot adjustments.
These have several speed and torque control modes, including Linear Torque mode (S/L), Non-Linear Torque mode (NL), Regenerate-to-Stop (RTS), and Coast-to-Stop (CTS) modes.  Front panel features include diagnostic LEDs (Power On, Stop and Overload), a Main Speed Potentiometer and a Start/Stop Switch. KBRC drives also have the exclusive Auto-Inhibit® circuit, Barrier Terminal Blocks, adjustable trimpots, selectable jumpers and more.  Optional accessories available.


Typical Applications for KBRC Series:
• Feeders
• Packaging Equipment
• Textile Equipment
• Positioners
• Indexers
• Conveyors
VIEW INSTRUCTION MANUAL
View Data Sheet
For more information about this product,
call 1-888-286-8614 or e-mail us today!
---
General Description• Standard Features • Specifications
Back to DC Drives• Back to Product Line
KB Drives – KBRC Series DC Drives