KBMD Series Multi-Drive™ by KB Electronics

General Description• Standard Features • Specifications
---
General Description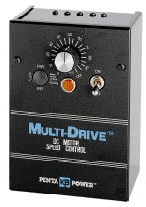 If your company is in need of a quality "multi-drive" consider the KBMD Series Multi-Drive™, manufactured by KB Electronics.  Power shunt wound and PM motors with patented overload circuit.  This drive is designed to control motors from 1/100 through 2 horsepower.  KBMD drives are housed in a NEMA 1 aluminum enclosure.  Rugged and compact in size, KBMD can handle both 115 and 230V C line inputs by setting the built-in dual voltage switch.
1/100 – 1 Hp @ 115 VAC – 50/60 Hz
1/50 – 2 Hp @ 230 VAC – 50/60 Hz
The single model is built to handle a wide range of motors by simply selecting and inserting the appropriate Plug-In Horsepower Resistor®.  The KBMD-240D (standard model) can control motors through 3/4 HP at 115V and 1 1/2 HP at 230V.  Horsepower range can be increased to 1 horsepower at 115V and 2 horsepower at 230V by installing the KB Auxiliary Heatsink.  An optional Forward-Brake-Reverse Switch Kit makes the control versatile for a variety of application needs.
The heart of the Multi-Drive™ is the KBMM™ speed control module  The KBMM™ module features slots for quick mounting as well as a readily accessible terminal blog to simplify wiring.  Each control includes a detailed instruction and user manual.  
*Typical Applications for KBMD Series:
• Conveyors
• Packaging Machines
• Printing
• Feeders

VIEW INSTRUCTION MANUAL
View Data Sheet
For more information about this product,
call 1-888-286-8614 or e-mail us today!
---
General Description• Standard Features • Specifications
Back to DC Drives• Back to Product Line
KB Drives – KBMD Series Multi-Drive™