KBIC Series DC Drives by KB Electronics

General Description• Standard Features • Specifications
---
General Description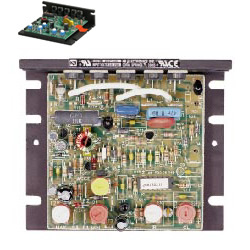 KBIC DC drives by KB Electronics are full-wave motor controls designed for industrial applications that demand excellent performance and reliability at low cost.   May be used for Shunt Wound, PM and AC/DC Motors.  These drives are compact (4.30″ x 3.64″ x 1.25″) and provide better than 2% regulation with over a 50:1 speed range. 
1/100 – 11⁄2 Hp @ 115 VAC – 50/60 Hz
1/50 – 3 Hp @ 230 VAC – 50/60 Hz

KBIC drives feature MOV transient protection for the power bridge, integrated circuitry, electronic current limiting (CL) for motor protection, smooth acceleration (adjustable from .5 to 4 seconds), and more.  The Plug-in Horsepower Resistor works great for various horsepower motors because it eliminates the need for recalibration of the IR Comp and Current Limit. The Auxiliary Heatsink is an optional feature used to double the horsepower for each model.  Inhibit and Auto Inhibit are other great features of KBIC models.  Choose from a variety of models within this series with various voltage and current ratings according to your application needs.

*Typical Applications for KBIC Series:
• Conveyors
• Packaging Machines
• Machine Tools
• Screening and Printing Equipment
• Exercise Equipment
• Pumps
• Welding Positioners
• Feeders

VIEW INSTRUCTION MANUAL
View Data Sheet
For more information about this product,
call 1-888-286-8614 or e-mail us today!
---
General Description• Standard Features • Specifications
Back to DC Drives• Back to Product Line
KB Drives – KBIC Series DC Drives